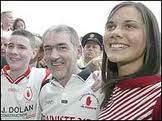 THE SUSPECTS in the murder of Michaela Harte McAreavey tried to cover up the killing by dumping her body in a bath filled with water, cops in Mauritius alleged tonight.
Her alleged three killers appeared in Mapou District Court charged over the Tyrone teacher's murder.
The 27-year-old, daughter of Tyrone GAA manager Mickey Harte, was found dead at the five-star Legends Hotel, a popular honeymoon resort in the village of Grande Gaube, on the country's north coast.
The murder has shocked people throughout Donegal – in particular the GAA community.
Avinash Treebhoowoon, a cleaner from Plaine des Roches and Sandip Moneea, a floor supervisor of Petit Raffray, have been charged with murder.
Raj Theekoy, a cleaner from Ramnarain, Cottage, has been charged with conspiracy. They spoke only to confirm their details before being remanded. They broke down as they entered court.
Mr Treebhoowoon claimed he had been beaten while being questioned by police.
"They undressed me and lay me on a table and with a water hose they beat me on the bottom of my feet," he told the court.
"They then put a towel over my head and beat, chocked and kicked me." Police believe more arrests could occur over the coming days after almost a dozen workers were interviewed.
Tonight grieving husband John McAreavey said: "I appreciate all the prayers and messages of support. I pray that God gives us the strength and faith that Michaela has, to cope with our horrific loss.
"She is a gift from god and I now have an angel."