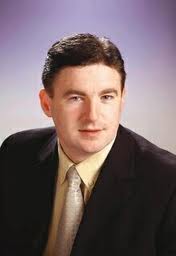 NIALL BLANEY has insisted he will still stand in the forthcoming general election despite revelations that he has separated from his wife.
The Fianna Fail TD told supporters at a cumann meeting in the Milford Inn last Monday that his marriage to wife Rosaleen was over.
However the 37 year old father-of-three claimed the split was amicable and by mutual consent.
It is not believed that Mr.Blaney is still living at the family home in Rosnakill.
A close supporter of the Fanad man said there is no question Niall will stand in the election for Fianna Fail in Donegal North East.
"You can take that as a given. The last few weeks have been very tough for Niall, Rosaleen and the entire family.
"He is almost relived that news of the split has finally come out as it has been hanging over him for a couple of weeks now.
"He is still close to his children and he will definitely stand for Fianna Fail in Donegal North East – there's no question about that," said the insider.
However another source has claimed that many members of the local Fianna Fail party are not happy with Blaney's presence on the ground in Donegal in recent months.
One claimed that the politician always had a proud history of attending local events but that he was spending more and more time in Dublin lately.
"He used to be always out and about – at every dogfight. That's what local people want from a local politician.
"But you could count on your two hands the number of times Blaney has been spotted around Donegal publicly in the last six months.
"He's always in Dublin now for whatever reason and there's a lot of people worried that he's not putting the work in on the ground in his own local constituency," said the source.
Today's Mail on Sunday carry a full story on how Blaney broke the news to his shocked supporters.
Ends