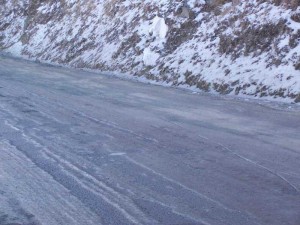 DONEGAL COUNTY COUNCIL and Gardai have warned motorists to be extra careful on the roads again this morning due to black ice in many areas.
Council workers began gritting roads in the past last night ahead of a forecast of sub-zero – and gritted many routes again this morning.
Rain and hail has fallen on top of icy patches, making some stretches of road treacherous.
There were a number of car smashes yesterday due to black ice and Gardai have today warned motorists to slow down to suit the conditions.
Officers are this morning mounting patrols on many main routes.