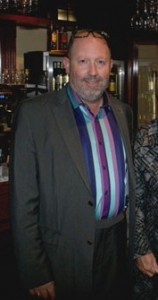 IN A SHOCKING move which could see his prison sentence in the North increased, convicted conman Francois de Dietrich appears to have a secret stash of cash which he claims he will give back to some agents in Co Donegal…'via a third party.'
Last Friday the Ballybofey businessman was given 18 months behind bars for breaching a High Court order in which he was told to give details of all his assets to the UK Financial Services Authority.
He didn't appear in court and a EU-wide bench warrant was issued for his arrest.
Now donegaldaily.com has been shown an email which – if authentic – may be a further breach of the restraining orders granted by the High Court.
A furious Belfast judge issued the arrest warrant after hearing de Dietrich had refused to disclose his world-wide assets to the FSA as required in a previous ruling.
Donegaldaily.com has a copy of an email (printed below) in which de Dietrich's ETIC Solutions claims 27 'clients' had received money and that another 75 will get money this week.
It reads:
Dear Sir/Madam,
We refer to previous correspondence, and are delighted to be in a position to now bring you the latest update with regard to liquidation payments.
Despite the rather considerable pressure being applied by the FSA, we remain on course to deliver full and final payments on the dates previously outlined.
Indeed over the past 5 days, we have already delivered payment to 27 clients, and by this time next week we will have completed a further 75 transactions.
Throughout the next number of weeks, we will dispatch an email to remaining clients on a Friday afternoon, clearly outlining the latest position. As specified in previous emails, clients' individual accounts will be dealt with on an individual basis only, and through a third party.
Regarding recent press/media speculation concerning FSA court action in Northern Ireland, a statement will be released shortly from our Belfast solicitors, Madden and Finucane, in response to the speculation. 
Once again we would like to take this opportunity to thank you for your patience and understanding throughout this process.
Yours faithfully,
ETIC Solutions
There is nothing to substantiate the authenticity of the email, though it did come from a source which has been reliable in the past.
MORE UPDATES LATER
Tags: