FIANNA FAIL headquarters are still insistent that they want a running mate for Colr Charlie McConalogue in Donegal North East.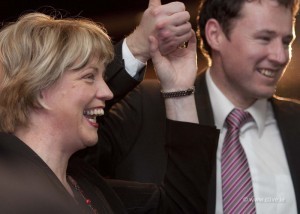 And the names Liam Blaney, Dessie Larkin and Ciaran Brogan are already being bandied about.
The party have until Brian Cowen officially calls the election on Tuesday to make an official selection.
Tanaiste Mary Coughlan told the 300 or so Fianna Fail supporters in the Mount Errigal Hotel last night that she would like to see a candidate from the Letterkenny area put their name forward for selection.
But such was the last minute announcement that Niall Blaney was not standing, Fianna Fail barely had time t think on their feet.
All three potential candidates sat at the top table of last night's convention.
Both Dessie Larkin and Ciaran Brogan have both stated previously that they did not plan to run in the election.
But that was before Niall Blaney pulled the pin on his family's political dynasty and threw the Donegal political landscape into turmoil.
The announcement came so quickly that even selected candidate Charlie McConalogue admitted the party had not printed posters to put up on lamp-posts.
For his part McConalogue gave a rousing, if somehwhat nervous, acceptance speech before the party faithful.
He is by no means home and dry but he knows he has a core vote in Inishowen which he can build upon.
It is early days and four weeks will certainly be a long time in politics.
Many consider both Fine Gael's Joe McHugh and Sinn Fein's Padraig MacLochlainn to poll well and that the fight for the third seat could be down to the wire between a Fianna Fail candidate,m be that McConalogue of AN Other and Labour's Jimmy Harte.
Ends