FINN HARPS have been given a major boost after both Conor O'Grady and Kevin McHugh put pen to paper for the Ballybofey side.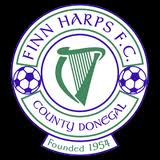 McHugh has signed a new contract with the Club, which will secure the striker's services for both the 2011 and 2012 Seasons.
And former Sligo Rovers captain O'Grady has now begun training with the rest for James Gallagher's side ahead of next Sunday's friendly with Derry City.
Harps Manager James Gallagher feels O'Grady's signing could prove to a significant addition to his young squad
"Conor has a reputation in the League as a formidable midfielder and I think he will definitely make us a better side. Given that he is a relatively high profile Player there was of course other clubs interested in getting his signature, so naturally we are delighted he has decided to come to Finn Harps. Conor's experience and ability to drive players around him was also an important factor as we have a young squad."
O'Grady who also played for both Cork and Derry City, before rejoining Sligo has always looked on Finn Harps as one of the bigger Clubs in the Country.
"I have always enjoyed coming to play at Finn Park and always found it a very friendly place. Harps have always struck me as having huge potential and its unfortunate the club has not had a period of sustained success where that potential could be tapped into.
"However I was very impressed with the Harps performance when getting narrowly beat in the Cup by Sligo Rovers last year. Harps certainly had the better of the second half and perhaps a draw would have been a fairer result.
"James and Anthony are building a good squad of young Players mixed with some experience. I am really looking forward to the challenge of helping Harps push on in the first division" he said.
Finn Harps Chairman Joey O'Leary said O'Grady's signing will be welcome news for Harps Supporters.
"I would like to welcome Conor to the Club and am sure he will be a fantastic signing for us. When James told me we had a chance to sign Connor I was delighted because not only is he recognised as a player of some calibre, he is also someone who is known throughout the game for his professional approach."
McHugh who scored 15 times in League and Cup for Harps last season is now looking forward to the forthcoming First Division Campaign.
"When I came back last year, I said at the time I wasn't interested in returning as a token gesture. Therefore it's great to have everything sorted out and know the next two years of my career are now committed to the Club.
"I believe James and Anthony are putting a competitive squad together and as one of the more experienced members of the squad I feel I can help with younger players in the squad. Whilst there is still a lot of work to do, I feel in great shape and am looking forward to get pre-season games under my belt, including the Derry match on Sunday." he said
McHugh, made his debut for Harps against Fanad in 1998 aged just 17 and has since become renowned as a prolific goalscorer for the Club, netting a hugely impressive 137 goals in 280 Matches.
Manager James Gallagher is sure the Finn Park faithful will see the best of McHugh over the next two Years.
"I am very happy that Kevin has committed to us because he is a player that is central to our plans. He has always possessed that goalscorer's instinct of been in the right place at the right time and I've no doubt he will be a major source of goals for us over the next two seasons.
However I do think he has evolved as a player over the years by developing his link up play and overall game which perhaps should get more recognition at times." he said.
Ends