Cllr Frank McBrearty has described the road conditions in the Finn valley as an absolute disgrace and the level of funding granted is an insult to the people who pay their road tax.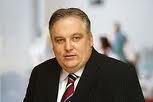 The Labour Party election candidate said the allocation of €1.5million for the Stranorlar regional & local roads restoration program for 2011-2013 is far from adequate to address the problems with roads in Cloughan, Glenfin, Brocaigh, Dooish, Ballybofey, Stranorlar, the Cross, Killygordan, liscooley, Castlefin, Dooneyloop, Lifford, Rossgier, Ballindrat, Porthall, St Johnston, Convoy, Raphoe and all the townlands in each of the areas.
"The Finn valley area is at a disadvantage to other areas concerning the level of funding they receive in general, as they do not have a Town council like other areas such as Bundoran, Ballyshannon, Letterkenny and Buncranna.
"If I am elected to Dail Eireann to represent the people of Donegal south west, I will ensure that Donegal county council and the Minister for Transport are made accountable for the conditions our roads are in and as a county councillor I will continue to demand the funding needed to ensure that our roads are brought up to the standards that we should expect.
"Roughly €27million is paid in road tax each year in Donegal and if people do not pay their road tax they are prosecuted.
He added "The Gardai should prosecute any local authority if roads are not up to the proper standards if an accident is caused due to the road condition and in the same way they would prosecute anyone for not having their road tax up to date.
 "In 2008 road conditions were a primary cause of twelve deaths and in 2009 the number was eight. We should have roads that are safe, that is not the case and the council admitted two weeks ago that the Finn valley was the worst affected area in the County with €3 million worth of damage because of the severe weather conditions.
"The amount of money allocated will not address the problems. I will demand that Donegal county council along with the department be prosecuted if anyone is seriously injured or killed due to the unsafe road conditions.
"I would encourage anyone who has an accident due to the road conditions to call the Gardai and report it immediately so that there is evidence to prove the road condition was a factor. I
"I am calling on the County Manager and the Department of transport to address the problem as the buck stops with them.
Ends