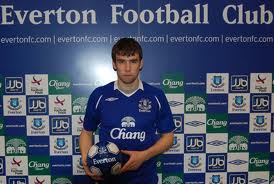 IN A WORLD of crazy prices for soccer stars, Everton's Donegal star Seamus Coleman is fast becoming a darling of the British media – taken by his manners, his attitude….and his great Donegal upbringing.
Little wonder then that there is yet another feature in the British papers today – this time the Daily Express – on how a player who cost the Merseysiders just £60k has become such a success.
"Every day I thank my lucky stars," he tells today's paper. "I will never take this for granted, no matter how many years I am here.
"It is what I always wanted to do. If some of the lads here saw the facilities back home in Ireland, they would get a shock. I realise how fortunate I am."
Ask manager David Moyes and he considers Everton to be the lucky ones.
The paltry fee he spent on recruiting Coleman from League of Ireland side Sligo Rovers has already paid rich and unexpected dividends, with a player who started the season a right-back proving largely immovable on the right of midfield.
Chelsea's Ashley Cole, now England's most-capped full-back after his 87th appearance in Denmark took him past Kenny Sansom, will testify to that, having endured a running battle with the 22-year-old in the recent FA Cup stalemate.
"He was giving me a bit of stick, but to play against those players every week is amazing," said the Killybegs man.
"A couple of years ago I was watching Ashley Cole on the TV. I'm not star struck anymore. When I am playing I could be back home in Ireland, it doesn't matter who the player is. I just give it a go."
Unlike many of his contemporaries who crossed the Irish Sea as wide-eyed teenagers chasing a dream, Coleman's route into the Premier League was more unconventional.
He finished school before joining Sligo and credits last season's loan spell at promoted Blackpool as giving him the confidence that he could make it in England.
Yet Coleman admits his football education suffered until Everton were alerted to his efforts and happy knack of making things happen in 2009. Even then a blister which became infected on the club's pre-season tour of America later that year almost curtailed his blossoming career.
"I loved my time at Sligo, absolutely loved it. I'm glad in a way that I went through that route and didn't come over as a 15-year-old," he says in the Express interview.
"I saw lots of lads go over to England and they kind of slowly came back. I got to do simple things like spending time with my family and friends and I could finish school.
"But it means I missed out on a lot of the coaching side of things by not coming over at a young age. I didn't really get coached properly until I was 20, so I'm still learning all that side of the game. I'm working on everything: first touch, awareness, those sorts of things.
"When I came on the scene, no one knew me. I could make a pass or a run, but now it is changing a little bit. I need to work on going inside and outside of defenders. I'm trying everything to meet the challenges."
The injury was just a freak one, but it became so badly infected that it threatened to eat away the bone in his foot. According to the physios, it could have been disastrous.
But Coleman's level-headed attitude to life gives him more of a chance of succeeding.
"My mum and dad always drilled in to me to have good manners and I still say 'please' and 'thank you'," he said.
"The lads who join clubs at 10-11, they know no different, it would be excusable for them to get carried away, to be honest. But for me coming from Ireland and not starting until late, I have to make the most of this opportunity."
Apart from the starting role he has made his own, the four-and-a-half year contract Coleman signed in January or his debut for the Republic of Ireland against Wales last Tuesday, there is another barometer of how well Coleman is doing.
When he first walked into Everton's Finch Farm training complex, club captain Phil Neville led the meet and greet. These days, the banter flying around the dressing room serves to illustrate his progress.
"I can remember my first day. I was quite shy and he just said, 'Anything you need come and see me'," said Coleman.
"Nowadays, he gives me a load of stick. The first few months I would sit there, quiet as a mouse and not say anything back. But I'm starting to pipe back up myself now a little bit more."
Coleman may, at last, be finding a voice. He found his feet a long time ago.
Seamus Coleman is supporting a unique event which will see 180 Everton fans going on a Zip Slide across Goodison Park on May 2 to help raise cash for the club's official charity, Everton in the Community.