THE family of slain Garda Robbie McCallion have told how their lives will never be the same again after Kerrykeel tearaway Jamie McGrenaghan mowed down the tragic officer during a botched robbery.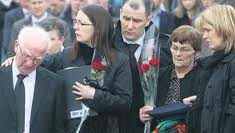 McGrenaghan, from Gortnathraw, Cashel, was sentenced to seven years in prison on Friday for dangerous driving causing the death of the much-loved 29 year old Letterkenny-based Garda.
But tragic Robbie's heartbroken brother John has said nothing will ever makes things right for them again.
John, also a Garda like the brothers' dad Bob before them, could not hide the contempt he had for McGrenaghan as he stared at him throughout the trial.
As he was led away in handcuffs, John said his family will never be able to forgive how the young car thief had put their light out on their lives and that he still could not bring himself to say McGrenaghan's name.
"The contempt I hold for that person is indescribable. No apology, sorry or remorse for what he done can remedy or mend the utter devastation he has caused.
"Our lives were shattered the night that car hit Robert. He was 29 and would have been 30 soon. Instead of planning a party for him, we were laying wreaths on his grave," said John.
John described how the night before Robbie was struck by McGrenaghan's car was the last night's peaceful sleep his family have had.
He revealed how the day before he returned to Letterkenny to start his shift, he had taken their father Bob for his cancer treatment in Galway.
When he arrived in Letterkenny, he called his parents and before he went out on his shift on that fateful night, he called them again.
"On April 7th we sat beside him as his body got weaker and weaker. We watched the last of his life drain from his body. And he was gone.
"We prayed for a miracle but there was none. We got a hearse home into the driveway – the same driveway which we had said goodbye to him to weeks previously," he said.
Robbie was a GAA fanatic who ate, drank and slept football.
He had went to school at Scoil Mhuire and Padraig where he did his Leaving Cert in 1997 before spending two years studying business at Mayo Institute of Technology.
He joined the Gardai on February 7th, 2005 and after an initial training term in Letterkenny, was later stationed there.
He lived in Carolina Park, not far from where he was to be cruelly mowed down by a runaway car, and was dating a local schoolteacher Maria O'Donnell.  
"It (his death) has left a huge hole in Swinford GAA Club. He was a leader on the field and was never happier than when he pulled on the jersey," said brother John.
According to John he loved being a member of An Garda Siochana and was killed doing his duty as a member of An Garda Siochana and all he wanted was a transfer back to Swinford so he could be closer to home.
The McCallion family admit that they miss their brother and son so much that they are forever ringing his mobile phone just to hear his voice on the end of the line.
"The burden just can't be described. Never again will any family occasion be the same. The pain we feel now will not get any easier.
"The pain is so bad we ring his voicemail to hear him. 'Robbie here – leave a message and I'll get back to you'. The life we lead now is just an existence but we have to do our best," he said.
He added that nobody apart from his family will ever know how much they lost when Jamie McGrenaghan decided to try and escape the Gardai on that March night in 2009.
"To the media and the people around the country he is Garda Robbie McCallion. But to us he is our son, brother and boyfriend who was so cruelly taken away from us.
"Mam and dad waved Robbie off and he came home two weeks later in a coffin. Every day we are grieving. He died doing his job and he didn't deserve it. Sleep well Robbie," added John.
Robbie was just 29 when he went to answer a call that two men had been spotted acting suspiciously near a car in a housing estate on the outskirts of Letterkenny in Co Donegal in the early hours of March 27th, 2009.
The Mayo man knew the housing estate in question very well because he was the community liaison officer for Tara Court.
But his life and the lives of his two colleagues Garda Shane Lavelle and Joanne Doherty were to change forever in a two minute spell of madness that night.
When they arrived at the cul-de-sac housing estate in their marked Ford Focus patrol car around 4.10am, they noticed two young men standing beside cars in the middle of the road.
Garda Lavelle quickly spotted the white Toyota Corolla's driver's door had been tampered with and his Garda instinct immediately kicked-in.
He asked the man standing beside the car with a tow rope in his hand, Cathal Dunleavy, what he was at?
As he did so Jamie McGrenaghan, then just 17, quickly reversed his car back one hundred yards back up the road they had driven down.
He alerted his colleagues and told the driver Garda McCallion to pull the patrol car across the centre of the road to block his getaway.
What happened next would send shockwaves around the country and ultimately lead to the death of the young Swinford Garda.
McGrenaghan claimed he panicked, thought he saw a gap big enough to fit through between the patrol car and a wall.
In his own words he "went for it" in a bid to escape the Gardai.
It was later to emerge that McGrenaghan had been caught just a month earlier having broken into 6 mobile homes at Eelburn Caravan Park on the Fanad Peninsula.
If he was caught with a stolen car, there was no question he would be facing time behind bars.
Garda Shane Lavelle described the moments when McGrenaghan's red Peugeot 306 came hurtling towards them, its tyres screeching and engine accelerating.
"I will never forget the screeching of the tyres and seeing Robbie being thrown into the air and disappearing into the darkness," he said.
Garda McCallion was thrown 15 feet into the air as McGrenaghan's car threw him like a ragdoll into the darkness of the night and into a nearby garden.
He suffered serious head injuries and died almost two weeks later on April 7th at Dublin's Beaumont Hospital.
The McCallion family's world was thrown into chaos the night their youngest son and brother was seriously injured and it was broken beyond repair when he then passed away.
But before they could really grieve for their GAA-mad son, they would have to face the trial of the young man who brought them so much pain and grief.
On Friday afternoon, Jamie McGrenaghan was finally convicted of dangerous driving causing the death of Robbie McCallion.
It was not the manslaughter verdict the McCallion family had pushed for on two occasions only for the jury to fail to reach the first time and unanimously reject on Friday week last.
But it means that on the direction of Judge John O'Hagan, he will serve seven years in prison with the last year suspended.
Ends