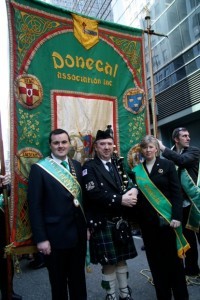 ANY PLANS for St Patrick's Day this year? Well if you have any spare dollars, you are invited to the Donegal Association of New York's Annual Dinner. In this article for donegaldaily.com, Dinner Chairperson Rosina Gallagher talk about how this important event brings people from the county together.
By Rosina Gallagher
The Donegal Association of New York Inc. to celebrate its115th Anniversary in 2011.
This is a very special year as we are commemorating the 115th year of our great organization. In recognition of this milestone, we have chosen to honor two very accomplished Donegal personalities. The New York Parade is also celebrating their 250th Anniversary; it is the only parade to be held on its feast day. The Grand Marshal for the parade is the infamous novelist Mary Higgins Clark.
This is perfect timing for anyone planning a visit to New York; you can take in the parade on the 17th and attend the Donegal 115th Anniversary dance on Saturday night.
To celebrate the 115th the Association stepped outside New York and went to Donegal for our guest.  We are delighted and very excited the 2011 'Guest of Honor' is Margo O'Donnell, the Queen of Country. Margo will travel to New York and will join us for the St Patrick's Day Parade and later at the dance on Saturday night. Margo joins a long list of distinguished honorees going as far back as 1979.
Margo hails from Kincasslagh, Co Donegal. The second eldest of five children, born to Julia and Francis O'Donnell R.I.P she has a sister Kathleen, and three brothers John Bosco, James and her equally famous brother Daniel. Margo as a young girl began singing with the church choir and performed in local halls. In 1964 she joined the famous 'Keynotes" and would sing at weekends and on school holidays. She recorded her first album "Bonny Boy/Dear God" in 1968 followed in '69 by "Road by the River" and "Eyes of a Child" and the rest as they say is history.
            To date she has recorded over 40 Albums. In September 2004, Margo celebrated 40 years in show
            business. She has played and recorded with the best of them from Big Tom and Larry Cunningham
 in Ireland to Dolly Parton in Nashville, and everyone in between including recording with her brother Daniel. She has performed in Carnegie Hall, The Royal Albert Hall, and the Grand Ole   Opry  to name a few, has toured extensively down the years, and has been very giving of her time at various charity events, a few which she attends annually.
She has received numerous national and international awards from around the world, and we are
delighted to add one more from her Donegal friends in New York!
The Association also presents the "Willie Joe Cunningham Award".  This honor was set up in honor of Willie Joe, or as he was better known "Mr. Donegal". Willie Joe hailed from Kilcar and was involved in numerous organizations and met and hung out with the best of them, and it was all for the benefit of his cherished Donegal Association.  For many years Willie Joe was a huge presence in the Association and successfully held office of President numerous times. The award in his memory was created in 2005.
We are proud to announce Mr. Connell Gallagher from Knockastoler, Gweedore via Boston as the recipient. Connell is the Publisher of the very popular newspaper the 'Irish Emigrant'. Connell was born in Glasgow and moved "home" to Gweedore at the age of five. He started his career in Co. Mayo before immigrating to America in 1986. He worked in the computer industry for five years toning his skills. In 1991, he met and married the lovely Siobhan Davis from Co. Sligo. They moved to Hawaii and lived there for a year before moving to Boston and calling it home. The Irish Emigrant was created in1987, and is the oldest online internet-based news service in the world. In 1994, it was taken to the next level with the help of Connell, the first hard copy was published in Boston, followed by New York in '95  and we have been receiving it in our mailboxes and corner deli ever since. It is also a family business, with his wife Siobhan as the Financial Controller; she has been involved in the growth and production of the paper since the beginning. Connell and Siobhan are the proud parents of Siobhan (16) Seamus (15) and Mary Elizabeth (12).
Additionally, our 2011 Achievement Award will be announced at the dance. The recipient is much deserving of this recognition and we are all anxiously awaiting the surprise!
The dance promises to be a memorable evening. We are expecting a larger than normal turnout due to the popularity of our honorees. If you plan to be in New York for St. Patrick's Day, we would love you to join us for a great night.  Please check our website for details at www.donegalny.org 
In conjunction with our Dinner Dance and in special recognition of our Honorees, we will publish our annual Souvenir Journal. This is a great opportunity for you to congratulate and send your wishes to Margo and Connell. In placing your congratulatory wishes in the journal, it creates a wonderful reminder of their night. It is a wonderful keepsake of memories for family and friends, and as always a popular almanac of "who is who" from the private and business sector. Please
You can download the form and dance letter from the website. Please place your message no later than March 1st.
 Do not be left out, put your name in the book! 
The Dance will be held in Antun's Queens Village on Saturday March 19th, 2011.
96-43 Springfield Blvd Queens Village NY 11429. 1 718 468 6400.
Please check for directions at www.antun's.com.
Cocktail hour starts at 7.00pm followed by dancing, dinner and awards.
Music is by the popular Gerry Finlay and the Cara Band.
$85.00 per person or table of Ten (10) $850.00 (includes Cocktail hour, Dinner, Bar) 
Black Tie optional 
For information and tables, please contact any committee member listed on the website.
Admission is by paid ticket only/ first come, first served (Limited tickets available at the door). 
Do not be disappointed, please purchase your tickets as soon as possible.
You will find assembly time for the Parade, location, dress code, conduct, and any other relevant information along with information on the Dance, which you can view and download along with the congratulatory form at www.donegalny.org.