The lotto numbers for this week were 8,11,17,24 and the match 3 winner was Karol Doherty. Next weeks jackpot is €1,620. Sellers this week are Joe gibbons and Darren McGinley.
 Anybody who wants to see the Scor play can view it on the Ulster GAA website.
 The tickets for the Scor All Ireland Finals will be available on Wednesday at 10 p.m. for those who ordered them. Tickets are €20.00 each.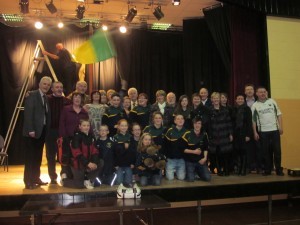 Our reserves beat Ardara at the weekend in the Gaeltacht by a point.
The dinner dance will be held on Saturday 5 March in the Lagoon Termon.
The club is now lifting membership from anyone who wishes to re new their membership this year, please contact a club officer and new members are welcome.
Thanks to everyone who took part in the 25 card drive on Friday night and everyone who helped organise it and make tea etc.
There is going to be dancing organised for Monday nights at 8.15pm to 10pm. It is an enjoyable exercise and something different so all people are welcome members or not, price is €5 per night.
 Ends