An Independent councillor, who is originally from Glenties, is doing his bit for the Environment – by putting up virtual posters on lamp-posts.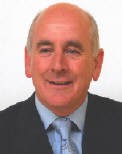 Cllr Joe Bonner's supporters have already put up nearly 2,000 posters around Meath East without even leaving their armchairs.
Voters can click on towns across Meath east including Bettystown, Tara, Nobber and Dunboyne and see their poster going up a ladder and onto the top of a lamp-post.
Cllr Bonner says he is delighted with how his campaign is going and that he is doing his bit for the environment.
"There has been a great response to the campaign and it doesn't cost a fortune.
"At least these posters won't fall down or be there in ten months time when the election is long forgotten," he said.
* If you want to stick up a poster for Joe in virtual Meath log onto wwwjoebonnerindependent.net
Ends