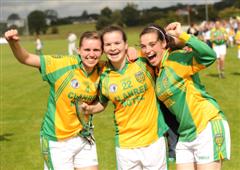 DONEGAL'S LADIES senior football team came from behind at Ballyshannon to easily defeat a tough Laois side at Ballyshannon – 5-07 to 2-09.
But at half-time, a goal behind, it looked as if the home side could be heading for defeat in this Division One clash.
Manager Eamonn O'Boyle admitted his side weren't great in the first half – until his team chat turned the game.
"We were poor in the first half and the break allowed us time to switch a few things around," said O'Boyle.
"The girls were a little bit down, a bit flat. Laois were throwing everything at us. But fair play to both sides really, it was a great advertisement for ladies football."
Team captain Aoife McDonald was superb, particularly in the second half- whilst the full forward line of Ellis Ward, Geraldine McLaughlin and Yvonne McMonagle bagged four goals between them.