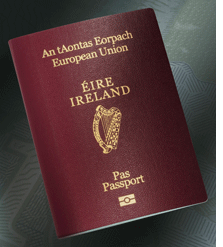 THE senior Russian diplomat expelled from Ireland following a garda investigation into the use of Irish passports by Russian spies has been named.
Alexander Smirnov, who was first secretary in the consular visa section of the Russian Embassy in Dublin was ordered to leave the country after a garda report found that the identities of six Irish citizens were used by spies arrested in the US last summer.
The victims of the identity theft included a couple from Inishowen – Eunan Gerard Doherty from Carndonagh and his wife.
Mr Smirnov appears to have had a low profile in diplomatic circles until he was named as the person at the centre of the passports row.
Mr Smirnov, a married father of two, lived in Dublin for several years working in the embassy's consular department.
His son was born in the National Maternity Hospital last year and a second child, who is a student in Russia, regularly holidayed here, according to a spokesman for the Russian Embassy.
Russian news agencies quoted the deputy foreign minister, Vladimir Titov warning that the order was "clearly an unfriendly step that will not go unanswered".
The incident comes at a time when Ireland is trying to boost trade and investment links with Russia.