DONEGAL'S FIANNA FAIL North East election candidate Charlie McConlaogue got off to an egg-straordinary start when he beat other candidates in an omelette cooking contest this morning.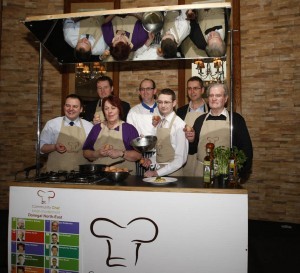 Other candidates were left with egg on their face as the Inishowen man refused to crack under pressure.
Candidates including Charlie McConalogue (FF), Padraig MacLochlainn (SF), John Ryan (FG), Betty Holmes (Ind), Ryan Stewart (Ind), Ian McGarvey (Ind) all had a smashing time under the direction of 'community chef' Brian McDermott.
Candidates were timed to see who could make the perfect omelette with a warning from chef McDermott that they "couldn't be runny'.
Virgin omelette-maker Padraig MacLochlainn warned the crowd to have a firebrigade on standby.
"I'm delighted to have come out of my shell," laughed Padraig who set a blistering pace at 1.32 minutes.
Bubbly Bettty Holmes (2.56 minutes) was proud to say she was an egg-straordinary chef and boasted her husband had never had to make a dinner for himself in 35 years of marriage!
Fianna Fail's Charlie McConalogue admitted he had made the odd omelette before and it showed after he took just 45.7 seconds to make his dish.
"I haven't seen that beaten on the BBC cookery programmes," admitted chef McDermott.
Ian McGarvey (1.59) was unsure if he was up to eating his own masterpiece.
John Ryan (FG) wife Siobhan said she was looking forward to Saturday morning after he made the perfect omelette in 1.55 mins.
But Ryan Stewart (Ind) could have been accused of cheating after admitting he actually worked for chef Brian McDermott many years ago.
And all that work almost paid off with a time of 48.2 seconds to come in second.
Winner Charlie McConalogue paid tribute to chef Brian McDermott and said "I hope that's the start of my winning streak."
All donations made during the cook-off at the An Grianan Hotel went to the Donegal Hospice.
Ends