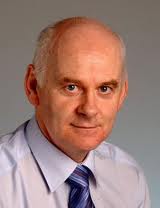 ELECTION 2011 SPECIAL: WITH the clock ticking down to polling day this Friday, the battle for seats in both constituencies in Donegal is getting hotter – with controversies in both.
In Donegal North East Labour Party candidate Jimmy Harte is locked in a battle with Fianna Fail's Charlie McConalogue for the third seat, with polls predicting they are neck-and-neck.
Harte is winning support from disillusioned Fianna Fail supporters unwilling to switch to Sinn Fein or Fine Gael.
But he is also targetting more votes in the Letterkenny area by warning that if Fianna Fail does get the third seat, the county's largest town will not have a TD in the next Dail.
And yesterday many of his election posters in the town have had two new words added…'Vote Local'.
A party insider admitted: "There is no doubt now that many voters in Letterkenny are going to vote for Jimmy because they realise that (Joe) McHugh and (Padraig) MacLochlainn are going to get in, leaving the town without a local representative.
"We are getting that on the doorsteps and we are also getting promises of second or third preferences which will be very important when it comes to deciding the final seat.
"The choice certainly in Letterkenny is a choice between a Fianna Fail candidate from Inishowen or local Labour representative who just might be in government next week."
The Fianna Fail camp however are 'quietly confident' that the party can take the third seat with one canvassser insisting to donegaldaily last night: "When people going into the voting booth and they have been Fianna Fail supporters all their lives, those same people will stand by us."
The party source admitted McConalogue's geographical location was 'an issue' but said the county councillor wanted to assure people he would represent the entire constituency.
"He is not simply an Inishowen candidate," said the insider. "He is much more than that and when people meet him, he is managing to persuade people he deserved their vote."
In Donegal South West independent Thomas Pringle is the main talking point – and whether or not he can take a seat.
However the other main talking point is the national media blackout ordered by Mary Coughlan's camp.
A number of national newspapers have been refused access to her campaign, with Ms Coughlan privately citing the 'horrid' coverage she received in her time as Tanaiste.
A close friend told us: "Mary has been picked on because she's a woman and because she's from Donegal. Why should she offer interviews now to a hostile press which has been nothing short of horrid?"