FINN VALLEY boxer Jason Quigley did himself proud but was beaten by defending champion Darren O'Neill in the final of the Senior Boxing Championships at the National Stadium in Dublin this evening.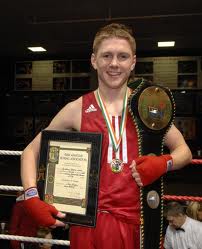 The Donegal man came into the bout as underdog despite some brilliant displays to qualify for his first senior final.
O'Neill, a teacher from Paulstown in Kilkenny, is considered one of the hardest and most skilled fighters in recent years.
Quigley, in the blue corner, set about his task well but simply could not find a way through the excellent defence of O'Neill who ended the first round 3-0 up.
The southpaw increased that lead to 5-1 at the end of the second round as he caught Quigley with a couple of clinical jabs to the head.
It looked like it was heading for an easy victory for O'Neill when he caught the Donegal man forcing him to take a standing eight count and making the score 6-1.
But referee Freddie Whelan also gave O'Neill a public warning giving Quigley two vital points to make it 6-3.
Quigley landed again to make it 6-4 and pressured O'Neill but it was too little too late as O'Neill picked off another point at the sound of the final bell to make it 7-4.
Quigley can be proud of himself for his first senior final against an opponent who is vastly more experienced than him.
Commentator Mick Dowling praised the Donegal man and said "We will be seeing an awful lot more of Jason Quigley."
Ends