GARDAI have smashed a gang who were using an oil tanker to steal home heating oil from hundreds of houses.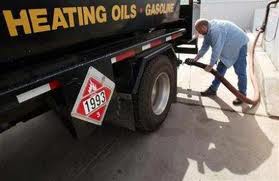 The daring thieves were using a 2,000 litre truck complete with pumps to steal the expensive oil from houses across West Donegal.
The gang were calling from door to door and when people were not home, they emptied the tanks pretending they were actually filling them!
Detective Inspector Pat O'Donnell said unfortunately the thieves had a market for the stolen oil.
"Unfortunately there is always a market there for something cheap," he said.
At least one man is expected to come before the courts in relation to the elaborate scam.
And Garda Detective O'Donnell admitted the oil scam is just the latest in a series of criminal incidents in Donegal.
A number of homes in the Convoy and Letterkenny areas were targeted in recent days.
He revealed they have identified THREE cross-border gangs who are now at the centre of a spate of burglaries across the North West region.
"We have spikes during the year and we are currently going through a major spike in relation to burglaries.
"There has been a considerable amount of burglaries in recent weeks and we suspect three gangs, possibly sharing information, are responsible.       
"A number of homes across the region have been hit and we would ask people to be vigilant, to keep doors and windows locked and keep an eye out for people acting suspiciously," he said.
Gardai believe the men are driving a red Seat car as well as a Volvo and a Renault Laguna car to carry out the burglaries.
He also revealed that the thieves are using local knowledge about people attending funerals and weddings to target empty houses.
Ends
MMMM