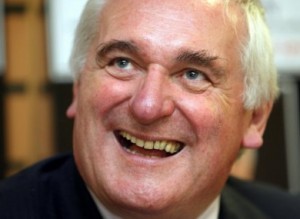 A NOTORIOUS  speech delivered in Co Donegal in 2007 by then Taoiseach Bertie Ahern has come back to haunt him.
An independent report has revealed that his Government IGNORED all the warnings about the possibility of the bubble bursting the Celtic Tiger economy.
And now a speech made by Ahern in Bundoran in July 2007 – which was branded crass at the time – is even more disturbing in light of the report,
In July 2007 in Bundoran, Co. Donegal, told a meeting of the Irish Congress of Trade Unions: "Sitting on the sidelines, cribbing and moaning is a lost opportunity. I don't know how people who engage in that don't commit suicide because frankly the only thing that motivates me is being able to actively change something."
He was later forced to apologise to families of the victims of suicide for his choice of words.
However it is the fact that international experts have found the former Taoiseach and his cabinet colleagues – including Mary Coughlan – ignored warnings about the economic model of Ireland that is now at the centre of controversy.
The independent review of the performance of the Department of Finance over the past decade has found that the Department did warn the Government about the dangers of the economic policy it was following, but that its advice was overruled by the Cabinet.
The review by independent experts from Canada and Holland looked at the advice the Department provided to Cabinet over the past decade.
Minister for Finance Brian Lenihan welcomed publication of the report, saying: 'It provides a very fair and thoughtful assessment of the Department's performance over the past ten years.'
The report found the Department of Finance was aware of the dangers of the Government's pro-cyclical economic policy of increasing spending and cutting taxes – and of the overheating of the property and construction sectors, and of the vulnerability of the tax system to a downturn.
The report says the Department did provide clear warnings on the risks of the Government's policy, and that its advice was more direct and comprehensive than concerns expressed by others in Ireland or abroad.
But it found that in every year except 2003 the Cabinet increased spending above the levels advised by the Department.
It calls for big changes to the way budget information is prepared, published and independently assessed.
ends