Forget the rub of the green – Ireland's most famous amateur weatherman has predicted Donegal could have a white St.Patrick's Day.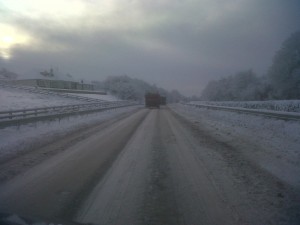 Postman Michael Gallagher said snow is on the way and a severe cold front could continue right up until the end of March and into April.
Michael says he fully agrees with forecasts by both RTE and the BBC that temperatures are set to plunge with a snowstorm on the way later this week – possibly Wednesday or Thursday.
Michael, from Glenfin, has been right about the arrival of both sun and snow for years now and even wrote a best-selling book on his predictions called Traditional weather Signs.
Despite Donegal enjoying one of the mildest March in years, he insists that Spring has arrived too early and we are about to be thrown back into a period of bad winter weather.
"I knew this would not be the end of our winter. Spring arrived far too early for my liking.
"There are flowers and buds out on the trees and berries everywhere on the holly bushes. It's all just too early.
"I think we're going to have a severe cold snap in the coming days and I even think that St. Patrick could be white nevermind green this year," he predicted.
Michael famously cost bookmakers more than €80,000 in bets when they were forced to pay out early on a white Christmas.
He has forecast the last two white Christmases and says people should continue to pay attention to all the signs offered by Mother Nature.
"Nature is rarely wrong. The fact that this cold spell is coming with the arrival of the full moon is not good either. Even after the snow I think we're in for a lot of very bad storms," he warned.
And for those of you who don't believe nature, both RTE and the BBC are also warning of snow across the country.
The BBC say the white stuff may arrive on Wednesday while RTE think it will be Thursday before we are plunged into freezing conditions once more.
Ends