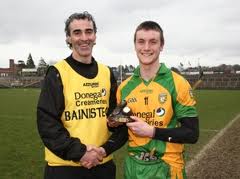 JIM McGuinness' side impressed as they ran out 0-15 to 0-9 winners over Meath in Division Two of the National Football League at Páirc Tailteann, Navan today.
Terry Skelly was sent off for Meath late on but that couldn't take away from a brilliant perforance by Glenswilly's Michael Murphy who hit 0-06 for Donegal.
The Tirconaill men began the game well against an experimental Meath side – and our lads would have had their backs up having been tipped to lose or draw this game by the so-called pundits!
Unlike the last gamed against Kildare there were plenty of points in the opening minutes with Donegal 0-3 to 0-2 ahead within ten minutes – and by the 2o minute the Ulster side had added four more points with no response from the Meath men.
Ryan Bradley was torturing the Meath defence, pointing 0-3 by that stage.
Meath pulled a couple of points back to leave Donegal ahead 0-7 to 0-4 at the break.
And within 15 minutes of the re-start Donegal had again raced into a lead notching up four more scores to Meath's single point.
Meath couldn't find any answers to Jim McGuiness's side and despite pulling a couple of scores back Donegal went on to win 0-15 to 0-9 with Murphy the man of the match.
In Hurling Donegal were beaten by Fingal.
Here's all of today's scores….
Allianz FL Division 1
Kerry 0-16 Galway 0-08
Armagh 2-10 Mayo 1-10
Dublin 0-13 Monaghan 1-09
Allianz FL Division 2
Kildare 1-13 Laois 1-11
Donegal 0-15 Meath 0-09
Derry 0-11 Sligo 0-08
Tyrone 1-16 Antrim 1-11
Allianz FL Division 3
Limerick 2-14 Cavan 0-15
Offaly 1-09 Louth 0-11
Wexford 0-13 Westmeath 1-07
Allianz FL Division 4
Carlow 2-21 Kilkenny 3-1
Roscommon 1-12 Fermanagh 1-09
Wicklow 2-09 Longford 1-12
Allianz HL Division 1
Galway 4-14 Kilkenny 3-13
Tipperary 1-20 Offaly 0-10
Waterford 0-18 Cork 0-17
Dublin 3-21 Wexford 2-15
Allianz HL Division 2
Antrim 0-10 Carlow 1-06
Clare 5-22 Down 0-06
Limerick 1-18 Laois 0-16
Allianz HL Division 3a
Kildare 2-16 London 1-15
Meath 1-20 Armagh 1-17
Wicklow 2-15 Derry 1-17
Allianz HL Division 3b
Fingal 1-13 Donegal 1-07
Mayo 3-12 Louth 2-14
Sligo 1-12 Monaghan 2-08
Allianz HL Division 4
Longford 6-23 Cavan 1-01
South Down 6-11 Leitrim 0-11
Tyrone 1-09 Fermanagh 2-05