The Director  of  the  National  Cancer  Control  Programme  has congratulated  the  Donegal  Public  Health  Nurses  who  have  become  the  first nursing group to graduate from the new Community Oncology Education Programme.
The nurses will become the first nurses nationally to deliver a specific range of cancer services to patients in their own homes.
Acknowledging the important role of nurses in the delivery of cancer services, Dr Susan O'Reilly said she  was  impressed  by  the  depth  of  knowledge  and  experience  of  oncology  nurses  in Ireland – drawing comparisons with international experience and noting that Irish nurses were on a par with the best in the world.
Expressing  her  delight  in  making  her  first  formal  visit  to  the  NCCP  satellite  cancer  unit  in Letterkenny,  Dr  O'Reilly  stressed  the  important  link  between  the  designated  cancer  centres and the communities they serve.
For the NCCP, this new community oncology education programme is a key component in the development of cancer services in the community.
According to Dr Marie Laffoy, Community Oncology  Advisor  with  the  NCCP – "We  know  that  most  patients,  where  possible,  prefer  to receive treatment at home. Where it is safe and appropriate for this to occur we are working to make that happen.
"A major objective of the HSE is to integrate health care between the community and hospital services.  HSE  structures  have  been  reconfigured  in  an  effort  to  achieve  this  priority.  This way of working will enable the best possible coordination of patient care, whereby all health personnel who treat a patient, work together to ensure the best possible patent outcome.
"It  is  a  priority  for  the  HSE  to  maximise  its  available  resources  to  the  advantage  of  patient care  and  outcomes.  This  includes  the  conversion  of  inpatient  work  to  day  case  work;  a focus  on  reducing  patient  length  of  stay  in  acute  hospitals;  the  implementation  of  hospital avoidance strategies and the provision of more services in community settings thus reducing the dependency on inpatient beds."
The NCCP is working in partnership with the HSE Office for Nursing and Midwifery Services, acute  hospitals,  primary  care  and  community  care  settings  to  deliver  a  safe  and  seamless medical  oncology  service  to  adult  oncology  patients.  Some  oncology  patient  care  can  be safely provided in the community setting.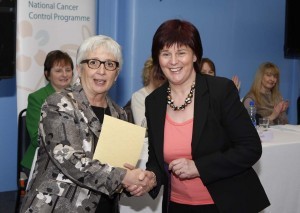 Dr  Laffoy  added:  "The  Community  Oncology  Nursing  Programme  is  an  excellent  example of  how  patient  care  can  be  integrated  between  hospital  specialist  services  and  community health  services.  It  aims  to  promote  best  practice  in  caring  for  cancer  patients  in  the community."
It  further  aims  to  ensure  that  service  delivery  is  seamless,  that  legislative  and  regulatory  requirements  are  met  and  that  employees  and  line  managers  understand  their  roles  and responsibilities.
It  intends  to  facilitate  effective  nurse  education  and  training  to  ensure  competency,  act  as educational  tool  and  further  act  as  a  basis  for  audit  and  evaluation.  The  service  can  be delivered  by  community  nurses  who  have  successfully  completed  the  NCCP  Community Oncology Education Programme.
Dr Laffoy concluded: "In choosing Letterkenny as the pilot site we knew we had the skills and experience of individuals like Janice Richmond (Advanced Nurse Practitioner, LGH) Dr Karen Duffy (Consultant Medical Oncologist) Dr Anne Flood (Director of Nursing LGH) Eileen Quinn (Director  of  Public  Health  Nursing,  Donegal)  who  along  with  the  support  of  management including  Sean  Murphy  (General  Manager  LGH)  and  John  Hayes  (Local  Health  Manager)  successfully collaborated to develop this pilot programme that has now expanded the skills of the nurses which in turn benefits their patients."
Many Donegal patients undergoing active oncology treatments travel to their treating cancer unit – Letterkenny – several times for blood sampling, medication management and care, and  management of central venous access devices  (these  are devices that  are fitted  to patients through  which  chemotherapy  drugs  are  administered).  
Once  fitted  these  lines  have  to  be maintained and managed, with patients routinely returning to the hospital and in some cases this involves patients travelling long distances.
This  new  programme  has  been  devised  to  provide  nurses  with  the  appropriate  skills  to safely  assess  and  manage  a  patient  at  home,  reducing  the  number  of  hospital  visits  for interventions.  
Patients  are  identified  as  suitable  for  community  nursing  intervention  by  the  Consultant  Medical  Oncologist  (in  Letterkenny  General  Hospital  this  is  Dr  Karen  Duffy)  and are referred by the specialist cancer team. 
If a patient is symptomatic or requires a medical assessment while undergoing active cancer treatments  and  being  cared  for  in  the  community,  they  are  referred  either   immediately  or urgently back to their local treating cancer centre. 
Developed  on  a  pilot  basis  in  Letterkenny,  the  programme  was  initiated  last  September with  nine  Donegal  Public  Health  Nurse  participants.   The  six  month  programme  included classroom  based  theory,  the  development  of  clinical  skills  under  supervision  and  the subsequent application in the community.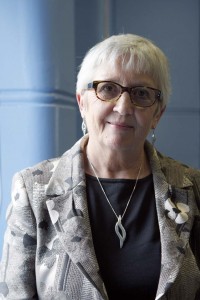 While the PHNs who participated in the course are already qualified and skilled, the cancer education programme has enabled them to expand the range of services they can bring to their clients.
The nurses who completed the course are already managing the home care of LGH cancer patients.  Once deemed suitable for such home care, patients are maintained under the care of the Consultant Medical Oncologist at LGH while undergoing active chemotherapy care but managed in the community by the PHN.
Dr  Anne  Flood,  Director  of  Nursing  at  LGH  said  that the nurses had enhanced their overall knowledge and information base around cancer care, services and had  enhanced  their  knowledge  and  links  into  the  satellite  centre  at  LGH  as  well  as  gaining greater insight into the working of all designated cancer centres.
She  noted:   "The  choice  of  LGH  at  which  to  base  this  initial  pilot  and  the  manner  in  which it  has  allowed  us  work  with  our  community  colleagues  has  been  extremely  worthwhile.  We are  pleased  that  Letterkenny  was  chosen  and  delighted  that  Donegal  patients  are  the  first nationally to benefit. For the hospital it will reduce the number of times this patient group will have to return and in turn it will mean that extra patients can be seen as a result."
Nationally,  the  new  course  was  developed  with  the  HSE  Office  of  the  Director  of  Nursing Services  and  supported  by  the  National  Strategic  Nurse  Reference  Group.  Dr  Laffoy paid  particular  tribute  to  Ms  Mary  Wynne  Interim  Area  Director,  Nursing  and  Midwifery  Planning  and  Development,  Dublin  North  East   for  her  commitment  to  the  project  and  her important role in its development.
The  programme  underpins  the  comprehensive  and  skilful  work  already  being  carried  out  by the  PHNs  and  all  community  based  nurses  in  the  county.  These  nurses  are  committed  to providing  a  very  diverse  and  skilful  range  of  services  and  in  expanding  and  developing  the level of care they provide, they are better placed to serve the needs of their clients. Nurses will quickly identify any issues that arise for their patients and determine whether the patient requires a visit to hospital or can continue to be managed at home.
The  course  will  now  be  offered  across  the  country  in  association  with  the  eight  designated cancer centres and will ultimately benefit hundreds of cancer patients nationally.