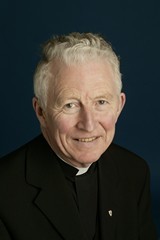 IN A LENTEN pastoral letter to the Diocese of Raphoe, Bishop Philp Boyce has written about dealing with tougher economic times in Donegal.
Dr Boyce said the country was once again facing high unemployment and emigration.
And he says God can help all the people of the county to get through the hardships ahead.
Below is the full text of his Letter:
"My dear brothers and sisters in Christ,
We have come through a difficult year for many families. The prosperous times we enjoyed have vanished. The country has a huge debt to settle. People have higher taxes and outstanding mortgages that they struggle to pay. A good number have lost their jobs and are unemployed. On account of the economic downturn, many small businesses have had to close. Our young people are once again faced with the prospect of emigration and an uncertain future. If we always need to trust in God's providential care for us, we need that hope now more than ever.
St. Paul says that Christ taught us to give up all worldly ambitions and passions, living sober and good lives, waiting in hope for the blessings to come from Christ who made us his own people, eager to do good (cf Titus 2 : 12-14). What a wonderful world we would have if we had no ambition or desire except to do good! The greed in the recent past of relatively few people, intent on recklessly accumulating more and more wealth, has left many many people now struggling to clear bills, to pay back loans or to get their children educated.
It is easy to cast the blame on individuals and institutions and on how they behaved in the good times. However, that will not solve our problems. We need to show a spirit of national solidarity and hope; we need to display that resilience and tenaciousness that Irish people always manifested when faced with calamities such as poverty, famine or persecution. We have to be satisfied with less, help each other with our customary generosity, be generous to the Society of St Vincent De Paul and show ourselves good neighbours to those near us or less fortunate. St Paul exhorts us: "Encourage one another and build one another up, just as you are doing….See that none of you repays evil for evil, but always seek to do good to one another and to all" (1 Thess. 5:11.15). Above all, let us trust in God's goodness and providence. Let us not lose hope.
A Hope that does not disappoint 
In baptism we received the precious gifts of faith, hope and love. To know God by faith and to know his promise of salvation is to have hope. Without God, we would be without hope in this world. That is how the Apostle Paul describes how his converts were before they came to faith in Christ (cf. Eph.2:12). He tells us not to "grieve as others do who have no hope" (IThess. 4:13).
We need to know God and his Son Jesus Christ in order to make sense of our existence. Only the Omnipotent God and Creator can explain and fully satisfy the infinite longings in the human heart. No matter how much we accumulate here below, how rich we become or how successful, we are always seeking for more, and are never  fully satisfied. God alone can fill the human heart and give us rest.
Even if we never experienced any setbacks and gained everything this world could give us, in the end our strength fails, old age brings limitations and we have to leave it all behind. We return to Him who made us. For we do not come into this created world by accident. Nor do we drift helplessly to a completely unknown future. As Pope Benedict XVI has written: "Life is not a simple product of laws and the randomness of matter, but within everything and at the same time above everything, there is a personal will, there is a Spirit who in Jesus has revealed himself as Love"(Encyclical Letter on Christian Hope (2007): Spe Salvi, No.5).
Our baptism opened up for us the door leading to eternal salvation, unending happiness and an immortal life in a future world. When parents bring their child to the church for baptism, they are really asking for more than a socializing welcome into their local community. They really wish, clearly or vaguely, their child to receive the gift of faith which promises a life of happiness after death. From the moment we are born into this world, we set out on a journey that leads relentlessly to the death of our bodies. Parents wish their child to get the hope and possibility of passing some future day beyond death to life.
We all hope for a lasting moment of supreme happiness, that will not change or diminish, and that will fulfil our longing to love and be loved. Jesus promised it to us when he told his disciples on the evening before he died: "I will see you again and your hearts will rejoice, and no one will take your joy from you" (Jn. 16:22). This hope which is anchored in Christ, the Son of God, is what keeps us going in the midst of the disappointments and difficulties of life.
He asks us not to worry about tomorrow: "Do not be anxious about your life, what you shall eat or what you shall drink, nor about your body, what you shall put on. Is not life more than food, and the body more than clothing?" (Mt 6:25). Those without faith in Christ worry about those things. We are asked to seek first God's kingdom and his righteousness, and all these other things will be ours as well.
We need this hope in God if we are to persevere. It is a greater hope, one that does not crumble when other systems collapse. Pope Benedict tells us:
"If we cannot hope for more than is effectively attainable at any given time, or more than is promised by political or economic authorities, our lives will soon be without hope. It is important to know that I can always continue to hope even if in my own life, or the historical period in which I am living, there seems to be nothing left to hope for." (Spe Salvi.Nr.35)
More than Conquerors
I know that this hopeless situation is a stark reality for some people at the present time. Another difficult year lies ahead of us. Apart from that, we also have to face, from time to time, difficult personal or families situations, such as a sudden and serious illness, the death of a loved one or a similar trial. Let us but remember that Christ has won all our battles for us by his death and resurrection. In the world he said we would have tribulation, but he added: "I have overcome the world" (Jn 16:33). And his beloved Disciple, St. John, writes: "This is the victory that overcomes the world, our faith" (I Jn 5:4).
It is clear that in the Gospels Christ promised that in the world we would have our Cross to carry, our trials to overcome. Every crisis however is an opportunity for a new beginning. It is not by avoiding all pain and troubles that we shall succeed, but by bearing them with Christ. However dark our situation may be or bleak the prospect ahead, let us leave the future in His providence, the past in His mercy and the present in His love.
Like  Mary the Mother of Jesus, the Mother of the Son of God, who remained faithful to the mission she received, even to the point of the seeming loss of everything beside the Cross on Calvary. She hoped against hope, and was rewarded on the morning of the Resurrection. She is a "woman of faith, a woman of hope, a woman of love" and "continues to inspire the women and men of today, becoming herself a symbol of hope for the pilgrim Church's life on earth" (Share the Good News. National Directory for Catechesis in Ireland, 2010, p.43).
Our hope too will carry us through and see us victorious. For "in all these things we are more than conquerors through him who loved us. For I am sure that neither death, nor life, nor angels, nor principalities, nor things present, nor things to come….nor anything else in all creation, will be able to separate us from the love of God in Christ Jesus our Lord" (Rom. 8:37-39).
May our Lenten journey lead us to rediscover at Easter the victorious hope that is ours thanks to the Resurrection of Christ.
May God bless you all.
+ Philip Boyce, OCD
Bishop of Raphoe