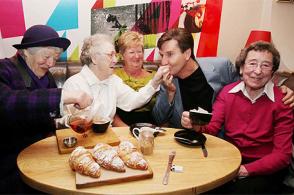 Country star Daniel O'Donnell has revealed that he may take a different career direct – into MUSICALS!.
The 50-year-old revealed last night that after deciding his days doing big tours were over, he was now "open to offers" to do stage musicals.
"I would like to do something in a musical if an opportunity came up," he told the Irish Independent.
"I like all the musicals and a while ago I was asked to do something in 'Chicago'.
"I couldn't do it because of touring but if something came up again I would definitely look at it. I have never done any acting and I'm not saying I could act … maybe I couldn't do it at all, but I would like the musical part of it. If it doesn't happen, I don't mind but I'm open to offers."
The Donegal man was speaking as he launched Hearing Awareness Week 2011 after playing a key role in encouraging his own mother Julia (92) to seek treatment for her own hearing loss.
"My mother suffered from quite severe hearing loss impairment, so conversations became increasingly difficult for her. But we encouraged her to seek treatment and now she lives a much improved lifestyle," he said.
As part of Hearing Awareness Week, free hearing tests will be on offer from Hidden Hearing and at a mobile hearing test clinic travelling around the country.