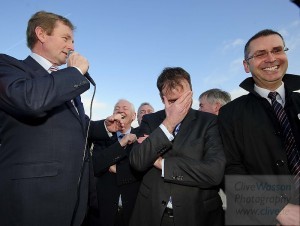 FINE GAEL councillor John Ryan has vowed to 'turn things around' when it comes to investment in Donegal – saying it was time the county was treated fairly.
The Inishowen councillor surprised pundits in the recent general election after securing a huge vote when running for the Dail alongside Deputy Joe McHugh.
Ryan insists his party will fight for funding for the county – starting with a badly-needed new bridge at Cockhill in Buncrana.
It has been revealed that €100,000 of funding has been released to create a design for the new bridge. Millions more will be needed to finish it.
On the design release, the Fine Gael councillor John Ryan said a new bridge at Cockhill was a major priority.
"This issue has been talked about for as long as I remember and there is still a problem regarding a lack of funding. The last government spent money everywhere but they forgot about us up here," he said.
"It may be a question of trying to have the road upgraded to a national secondary route; maybe that will allow us access to a different pot for funds. The bottom line is, we are looking for a bridge here and we need to make sure we get it."
Donegal County Council has been given the go-ahead to seek a design for the bridge after a new bridge – but only after the National Roads Authority confirmed it had no objection to a modernisation plan.