Everton manager David Moyes has said he's putting his shirt on Killybegs soccer sensation Seamus Coleman becoming the Premiership's Young Player of the Year.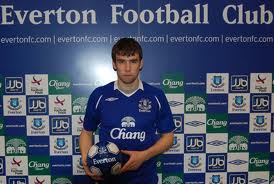 The huge endorsement from the canny Scot is recognition of the Donegal man's meteoric rise over the past few months.
The 22 year old joined Everton just over two years from Sligo Rovers for just £60,000.
And Moyes said that is the reason why Coleman must be considered for the PFA award.
'The level of where he has come from means he must be close to young player of the year,' said Moyes.
'He's had no real footballing experience at this level, or any level at all, very little full-time training and very little technical work so we hope there is going to be more improvement.
'He's a right-back playing one on and he might be better one on; we don't know yet.
'One of his biggest strengths is his lack of inhibitions carrying the ball. You won't get him to be the best passer and keeper of the ball, but he's given us something else and coming from deep will help him improve as a defender in years to come," gushed Moyes.
He hailed Seamus Coleman's adaptability, with the player exceeding expectations this season.
Coleman, a goalscorer in the Toffees' victory over Fulham at the weekend, is likely to play for the Republic of Ireland in Saturday's Euro 2012 qualifier against Macedonia at the Aviva Stadium.
Moyes admits they are fortunate to have benefited from Coleman's swift progress.
'He was sixty grand and he's done a brilliant job for us.
'He's been up and down but he's going to be up and down – you don't find an absolute diamond for that money.
'It's very rare that happens so there will be times when he doesn't look completely comfortable," he said.
Ends