Finn Harps' squad strength will be tested to the full on Friday night when they finally play their first away game of the 2011 campaign.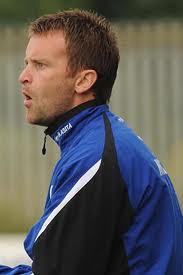 Two weeks ago, Harps' trip to Athlone was called off due to a waterlogged pitch, but Waterford United await the visit of Harps to the south-east on Friday with both sides looking for their first victory of the season.
 Harps have opened their campaign with back-to-back home 2-2 draws against Limerick and Monaghan United, leading twice in both games but still only managing to pick up a point. 
However, they have finished both games with ten men after Mark Forker seen red against Limerick, and Tommy Bonner was sent-off last Friday against Monaghan.
 While James Gallagher had sympathy with Forker regarding his opening day red-card, he had no such words of comfort for Bonner. 
"It's unacceptable and I don't want the likes of that," Gallagher said. "It's no good to me and it's no good to Finn Harps.  He's a senior player and he should be leading by example with a young lad like Raymond Foy in beside him.  He said the Monaghan player clipped his ankle but there was no need to respond in the way he did."
 Both players will sit out Friday's trip to the RSC to face Stephen Henderson's side who have started the season with just one point from two games – a 0-0 draw at home to Athlone Town was followed by a 2-0 defeat against Monaghan at Gortakeegan.
 "I supposed it's clichéd but it was a game of two halves really," commented Gallagher as he looked back on Friday's draw with Monaghan.
"We were in good control of the game in the first half and we got our rewards with the goal before half-time having put Monaghan under a lot of pressure.  It's one where you don't want to see half-time coming but you expect players to keep doing what they were doing but it doesn't always work out like that.
 "Monaghan came out well at the start of the second half and they were well up and at it.  We never really saw much of the ball and didn't make great use of it.  The first goal was avoidable and it let them back into the game.  Kevin's second goal pulled it out of the hat but I thought if we could've regrouped we would've held on from there.
 "We need a wee bit more about it to win games like that.  We are always trying to make the players more mentally strong and tuned.  You have to respond to different situations.  There's a mentality thing that's been here since I took over and if we were a little stronger we could've won that game."
 Not only will Gallagher have to plan without the suspended midfield duo of Forker and Bonner and long term injury victims Garbhan Friel and Christy Conaghan for tonight's long trip south, but his squad will also be missing the services of winger Marc Brolly who took a knock to the knee during last week's draw with Monaghan.  And centre-back Paddy McLaughlin is also a doubt with a groin strain.
Raymond Foy, who started in place of Forker in midfield last week is likely to get another start, while Gary Whoriskey and Keith Cowan could also be in line to see their first action of the season on Friday. 
"Raymond (Foy) done very well last week to win the penalty, got about the pitch but going down to Waterford it's a different ball-game altogether.  They're a big, physical team and obviously we'll have to approach the game slightly different to what we did for the Monaghan game. 
"With Brolly, Forker and Bonnar out it leaves you short of three important players but it's not so bad because we can call on the likes Oisin McMenamin, Gary Merritt, Keith Cowan, Aaron O'Hagan and Raymond too; they'll all be in contention for a spot in the team", said the Harps boss.
 Harps have a miserable record in Waterford, and you have to go all the way back to August 2001 to find a last Harps victory at the RSC.  Then, Harps came out winners by the odd goal in seven.  The last three visits there have all ended in defeat. 
 However, Gallagher said that he is taking his team down there to try and win. 
"We'll not be going down there looking for a 0-0 draw, we'll always approach the game looking to play attacking football," he said.
 "Our midfield has obviously been ravaged with the loss off Mark and Tommy and, whereas last year I felt we couldn't play this system because we mightn't have had the personnel, it's important not to force it.  We might have to set up slightly different but we'll still be geared towards playing attacking football.  I think we still have the players that if we can keep things tight, not give away any silly mistakes, that we have enough quality to score goals. 
 "People might be arguing that Kevin (McHugh) is playing up top on his own but if he carries on the way he has, we'll have no problem with that and neither will Kevin.  He is really enjoying the role at the minute and hopefully will continue to bang in the goals."
 Suspended: Mark Forker (2nd of 3 Matches), Tommy Bonner (Automatic 1 Match ban)
Doubtful: Paddy McLaughlin (groin)
Injured: Marc Brolly (ankle), Garbhan Friel (knee), Christy Conaghan (knee).
Unavailable: None.
Form Guide (last six league games)
Finn Harps: L-W-D-W-D-D (9 pts)
Waterford United: W-W-W-W-D-L (13 pts)
Last six games away to Waterford United
25-Mar-05 – Lost 1-2 (Premier Division)
09-Sep-05 – Drew 2-2 (Premier Division)
23-Nov-07 – Drew 3-3 (Promotion/Relegation Play-Off)
28-Jul-09 – Lost 0-4 (First Division)
23-Apr-10 – Lost 0-2 (First Division)
09-Oct-10 – Lost 1-3 (First Division)
Finn Harps Goalscorers 2011
Kevin McHugh – 3
Gareth Harkin – 1
 Finn Harps Results 2011 (Harps goalscorer in brackets)
4th March 2011 – Finn Harps 2-2 Limerick (McHugh, Harkin)
18th March 2011 – Finn Harps 2-2 Monaghan United (McHugh 2)
Tags: