A Letterkenny student had a lucky escape after a horse tranquiliser was slipped into her drink on a night out.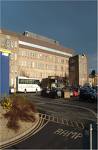 The 20 year old woman had been out with friends when her body became paralysed at a local nightclub.
She had to be rushed to Letterkenny General Hospital where she was treated before being released.
Doctors at the hospital told the woman it was almost certain that her drink had been spiked with a drug – most likely ketamine.
The medic also told the woman that this was the second case which had been presented at the hospital in less than a month.
Local GP Dr.James McDaid slammed those responsible for spiking the woman's drink claiming they could have killed her.
"Doing something like that is absolutely lethal. Ketamine is a dangerous barbiturate that can cause breathing problems or heart failure.
"There is also the danger of a person choking on their own vomit whilst unconscious," he said.
The woman, who asked not to be named,  said she is still in shock at what happened to her.
"I was absolutely horrified. All I could think was – thank God I'm still standing here today."
Anti-drugs campaigner PJ Blake said he was saddened but not surprised by what had happened.
"When are people going to wake up and realise what is happening out there? These type of things are happening all the time.
"We have four dead youngsters already in our county because of drugs. How many more do we need before something is done," he asked.
Ends