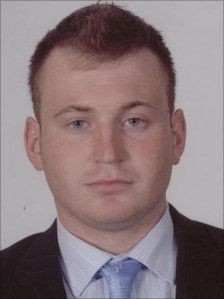 Dozens of Donegal people passed close to where a 25-year-old police officer was killed yesterday afternoon after a bomb exploded under his car in Omagh.
They were part of a number of local runners and walkers who travelled to Tyrone to take part in the Omagh Half Marathon which attracted a crowd of more than 2,000 participants.
The device exploded under the vehicle outside his home in Highfield Close, just before 4pm yesterday.
He has been named as Ronan Kerr. His family in Beragh was visited last night by the North's Deputy First Minister Martin McGuinness. Mr Kerr's father died recently.
Neighbours rushed to help him and some used fire extinguishers to put out the flames from the explosion. He died at the scene.
He was recently qualified and is the second policeman to be killed since the PSNI was formed out of the RUC in 2001.
Donegaldaily.com has learned that runners and walkers passed by the entrance to the estate where the bomb was planted.
Politicians and party leaders from across Northern Ireland and the Republic have condemned the attack. As of yet there has been no claim of responsibility for his murder.
Locally both Sinn Fein TDs Pearse Doherty and Padraig MacLochlainn have unequivocally condemned the attack and called for those responsible to stop.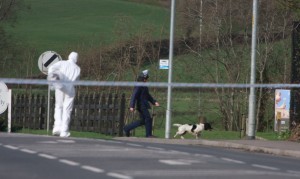 Shadow Northern Secretary, Shaun Woodward, described it as "an evil and cowardly attack".
"These crimes are targeted on those who protect the community," he said.
"We all deeply mourn the brave young man whose life was taken by this savage crime.
"We all have a duty to stop those behind it from succeeding."
Sinn Fein president Gerry Adams said his party was determined that those responsible would not set back the progress of the peace and political process.
Taoiseach Enda Kenny said it was a "heinous and pointless act of terror".
"Those who carried it out want to drag us back to the misery and pain of the past. They are acting in defiance of the Irish people," he said.
They must know that they can never succeed in defeating the democratic will of the people."
The Continuity IRA is one of a number of dissident republican paramilitary groups opposed to the peace process. They have carried out bomb and gun attacks on civilians and the security forces.
There is believed to be cross-over and co-operation between the Continuity IRA and the larger Real IRA, which bombed Omagh in 1998.
The car bomb killed 29 people, including a woman pregnant with twins, and injured hundreds more.
PICTURES BY: NewspixIRL 
Ends
Tags: