The Letterkenny-based Sweeney family has carried away the prestigious Donegal Business of the Year Award at the 2011 Enterprising Donegal Business Awards, hosted by Donegal County Enterprise Board, held in the Radisson SAS Hotel today.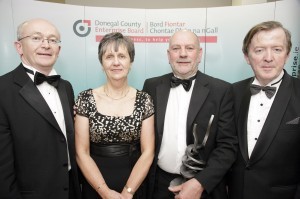 Their business, the Swilly Group, provides driver training, general training and transport consulting services throughout Ireland. 
Founded by Noel Sweeney in 1975, the company is now the biggest driving school outside Dublin and the third biggest in the country. 
The Business Development Award went to John McNamara of Letterkenny-based JB Interactive Mobile Marketing, while the Emerging Business Award went to Rose Blaney of Seascape Spa.
The Business Achievement Award went to Sidney McDaid of Letterkenny Skip Hire & Recycling.  Highland Radio took the award for Outstanding Contribution to the Local Economy and this year's Innovation Award went to Donal Doherty of Harry's Bar & Restaurant in Bridgend.
 John Perry, TD Minster for Small Business, presented the awards during the black-tie dinner event which attracted a huge turnout from the county's business community.
"When you consider the quality of the other companies who were short listed for the awards, we were totally shocked when our name was called out for the overall award" said Brian Sweeney, Managing Director of Swilly Group. 
"I'm delighted for my parents Noel and Mary, who have worked hard for the past 36 years building the business. We have an excellent team of employees who give us 100% week in week out and we couldn't have achieved this without their hard work and commitment. They are Paddy Maguire, James Greene, Noreen Toye, Michael McGill, Liam Casey, Don Ponsonby, Susan Wasson, Damian Kerin and Karen Boyle. We also have a large group of part time tutors and training partners who have worked extremely hard for the company and I want to acknowledge their contribution also."
Michael Tunney, CEO of Donegal County Enterprise Board, said
"The Sweeney family richly deserve this award.  They have developed a small family business into one that is delivering services across the island. 
They combine excellent service delivery with an eye for marketing and promotional opportunities, and they devote significant resources to training themselves and their staff to constantly improve their capabilities."
Donegal County Enterprise Board is co-funded by the Irish Government and the European Union.
The Swilly Group was founded by Noel Sweeney in Letterkenny in 1975.  Noel's wife Mary joined him in the business in the early 90s and now his sons Brian, Stephen and Karl are also actively involved in the business, which employs 14 full-time staff and over 30 part-time and contract staff. 
The company has expanded across Ireland and Northern Ireland and offers driver training and consulting services for learner drivers, truck and bus drivers, fleet operators and driving instructors. 
The company's training unit also delivers IT, health and safety and general business training. Swilly Group opened new offices in Tallaght and Finglas in Dublin in February this year and is about to open a further office in Belfast. 
Noel also generated a lot of coverage with his YouTube video recorded in December describing how to drive in snow.  The video received over 14,000 views in a few days, with viewers coming from as far afield as New Zealand.
Organised by Donegal County Enterprise Board, the Enterprising Donegal Business Awards are an annual event to acknowledge the contribution of local entrepreneurs to the economic and social fabric of the county.
Previous winners of Business of the Year award have included Gartan Technologies, DS Environmental Services, Mantis Cranes and North West Aluminium.  Business Development Award winner John McNamara of JB Interactive Mobile Marketing will go on to represent Donegal at the National Enterprise Awards in Dublin later this year.
For further information about the Enterprising Donegal Business Week Awards 2011 contact Donegal County Enterprise Board on 074 9160735 or email ccarroll@donegalenterprise.ie alternatively, you can visit the Donegal County Enterprise Board's website at www.donegalenterprise.ie
Ends.
Tags: