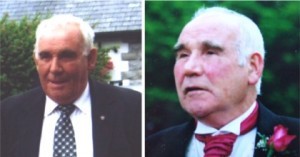 A coroner in Derry is to investigate the deaths of two Donegal lobster fishermen who drowned in Lough Foyle in May 2008.
Daniel McDaid, 70, and his brother Francis, 68, both from Malin, drowned after their lobster boat the Strath Marie capsized.
It happened in waters claimed by both the British and Irish governments.
The victims' families have previously claimed another vessel may have collided with the brothers' boats.
Coroner Brian Sherrard told a preliminary inquest in Derry today that he agreed to a request from the victims' solicitors to carry out a full investigation.
In July last year the Marine Casualty Investigation Board found the brothers drowned when their lobster boat encountered difficulties that were 'sudden and without warning.'
The brothers, from Culkeeny, Malin, drowned when their boat, 'Strath Marie', sank in relatively calm waters near the mouth of Lough Foyle on March 14, 2008.
The MCIB report included submissions from the victims' families who dispute a number of the findings.
However, the MCIB rejects the families' claims that a speed boat or cargo ship may have been involved in a collision with the brothers' 9.12m vessel on the day.
The report also found that neither brother was wearing a lifejacket while their vessel did not carry a life-raft.
The brothers, who were married with grown-up children, had left Bunagee Pier, Culdaff, that morning around 8.45am to lift lobster pots. Weather conditions were better than forecast and visibility was good, according to the MCIB report.
Tags: