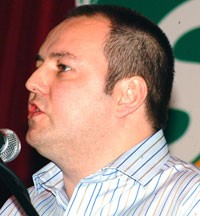 Speaking in the Dáil this evening on the Nyberg Report Sinn Féin's Spokesperson on EU affairs, Donegal NE Deputy Pádraig MacLochlainn said a glaring omission in the report was the central roles that the IMF, the ECB and some of our stronger European partners which all played part in the creation of the Irish catastrophic crisis.
Deputy MacLochlainn called on Foreign Affairs Minister Eamon Gilmore to lobby other Governments to seek a review of the performance of the IMF as it has been a complete failure in Ireland.
Deputy MacLochlainn said in the debate: "Yesterday's Nyberg report places the blame for Ireland's financial crisis squarely in the hands of Ireland's 'troika of incompetence' of the Central Bank, the Financial Regulator, and the Department of Finance.
"While Nyberg places blame on the Irish players in this economic catastrophe, one glaring omission as a result of the limited terms of reference is acknowledgement of the central role that the IMF, the ECB, and some of our stronger European partners, played in getting us into this sorry state.  
"Huge responsibility and blame lies with those controlling the purse strings and delivering financial advice both at EU and IMF level.  I put it to this Government that in all three reports to date, the Regling and Watson, Honohan and now Nyberg, all of them have referred to the International dimension of negligence."
The Sinn Fein TD added: "I am calling on Minister Eamon Gilmore to extend the remit of his European Diplomatic Mission with a new objective to communicate this crucial point to the Independent Evaluation Office (established in 2001as an internal watchdog for the IMF) and to also appeal to the 187 member governments of the IMF to review its complete failure in operating successfully in the case of the Irish state.
 
"I say to this Government: You are the Government now.  You are in charge of our country's future. Give the young people of Ireland reason to stay here – and to fight for that future. You must demand fairness from Europe. We refuse to be the sacrificial lamb for Europe-wide and International beneficiaries."
Tags: