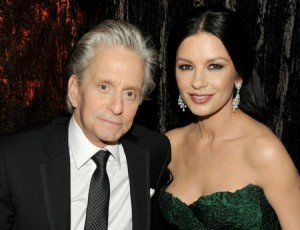 HOLLYWOOD star Michael Douglas has donated a rare signed book to fundraising efforts for Letterkenny General Hospital!
The top actor – facing his own battles against cancer and his star wife's diagnosis with bi-polar – gave the screenplays to Wall Street (1987) and Wall Street: Money Never Sleeps to fundraisers.
And it went on auction last night on ebay with a reserve price of €500!
Ryan Stewart – an election candidate and anti-VRT campaigner – said: "It is a unique item available for sale kindly donated by Hollywood legend Michael Douglas, in aid of the cardiology unit of Letterkenny General Hospital.
"This book was put together as a promotional item for Wall Street: Money Never Sleeps. Autographed by Michael Douglas, the item was sent to us by his publicist Allen Burry.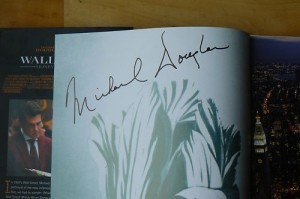 "This is a real collectors item, beautifully presented, and contains the screenplays to both Wall Street (1987) and Wall Street: Money Never Sleeps."
The donation came as Mr Douglas's wife Catherine Zeta-Jones returned to work yesterday as her proud husband praised her for tackling her bipolar disorder with such courage.
Catherine, 41, spent five days in a mental health clinic this month when the stress of Michael's cancer battle sent her into depression. But she was beaming again yesterday as she shot scenes for a comedy film.
And in a joint interview, the couple spoke for the first time since she left the £770-a-night hospital in the US.
Wall Street star Michael, 66, said: "It takes a lot of courage to seek help and I am proud of Catherine for doing something positive about her situation. It's onwards and upwards for us."
Oscar-winning Welsh actor Catherine added: "This is a disorder that affects millions of people and I am one of them. If my revelation of having bipolar II has encouraged one person to seek help, then it's worth it. There is no need to suffer silently and there is no shame in seeking help."
Want to bid for the signed screenplays? Click here: http://cgi.ebay.ie/ws/eBayISAPI.dll?ViewItem&item=270738242987&ssPageName=ADME:L:LCA:IE:1123
Tags: