SHEEP rustling is rife in Donegal, a top IFA man has revealed.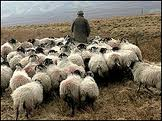 PJ McMonagle has said that sheep and lamb thefts are particularly bad across Inishowen.
In recent days a farmer lost nine yearling ewes worth a total of €1,300 when they were taken from a field in Dunree.
The theft is the latest in a spate of sheep robberies as the price of livestock hits a high.
Mr McMonagle warned fellow farmers to be vigilant and also asked the public to be on the lookout for anybody acting suspiciously.
"Sheep rustling has always been a problem but it has got pretty bad at the moment. We are talking about serious amounts of money here.
"If anybody sees anybody acting suspiciously to contact the Gardai straight away," he said.
Ends
Tags: