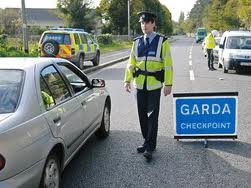 GARDAI across Donegal are out in force today to crack down on speeding and drunken motorists in a bid to keep our roads safe.
But their warnings are already falling on deaf ears among boy racers – with several reports to donegaldaily of morons driving at crazy speeds on the Donegal Rally routes near Ramelton and Portsalon.
Traffic corps gardai fear the small number of young drivers who continue to drive without any regard for other motorists will be out in force over the holiday weekend.
But sources have told us that a number of operations in various parts of the county will be in place to take boy racers off the roads and bring them to justice.
Donegal's appalling record of road deaths is at the forefront of the Traffic Corps operation with speed camera vans out across the county today at accident blackspots where there have been deaths in the past.
Donegal Traffic Corps inspector Michael Harrison said his officers will be targeting the three main causes of accidents here in the county – speed, drink-driving and motorists using mobile phones.
"There is no doubt that we are making progress," he said.
"However there are still many motorists breaking the law and putting their lives and the lives of others at risk.
"We want people to enjoy the Easter holiday weekend but we want them to do it safely. We are putting patrols throughout the county to ensure the safety of all road users."
However last night donegaldaily.com was contacted by a number of readers who reported boy racers driving at high speed along parts of the Donegal rally route.
One resident told us: "As soon as the sun comes out, these idiots are out in their boy racer cars driving at huge speeds along the roads. They think they're rally drivers – it's only a matter of time before they kill some innocent person."
Tags: