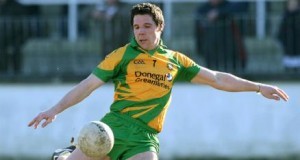 DONEGAL STAR Kevin Cassidy basked in the glory of Sunday's Croke Park victory over Laois in the Football League Division 2 final – and quickly turned his attention to the Championship.
Donegal beat Laois by a point in a tight match, with goals from Michael Murphy and Colm McFadden proving vital for the 14-man Tir Chonaill men.
Cassidy told RTE: "We are satisfied. We knew it was going to be tight after being down in Laois a few weeks ago. They are good physical side and have good footballers. I suppose we put a plan together to deal with that today and it worked to a certain extent.
"At the end they could have sneaked a goal and they would have deserved it as much as we did. We're happy now and we'll head down the road and look towards the summer."
The Gaoth Dobhair man was particularly happy with the way his side began the second half – hitting a goal and a point in the first minute after the re-start, scores which proved crucial.
"They boys worked well together. We were disappointed going in at half-time because we had a decent lead and let it slip to three points.
"But we came out and wanted a good start and the first couple of score. A goal after half-time really set away and by rights it should have killed the game. We'll have to work on it.
"Although they are young there is a lot of experience around the dressing room. They did that all year. In the first game of the year we were eight points down against Sligo and came back so you have to be like that.
"Some days it is not going to go for you so you have to dig deep and try to stay there to the end like Laois did."
Donegal begin their Ulster Championship campaign against Antrim in Ballybofey in just three weeks.
Said Cassidy: "We have a tough one with Antrim in Ballybofey. We played them four or five weeks ago and they are a good outfit because they were missing six or seven players.
"We'll go back Tuesday night and start our Championship preparation and work really hard. No doubt Jim has a plan for us and we will all stick to it and hopefully it will work in our favour.
"When you get to play here (at Croke Park), that is what is all about. When you run out here it is what dreams are made of and I'm just glad to be part of it here today and hopefully we'll be back here in the summer."
Tags: