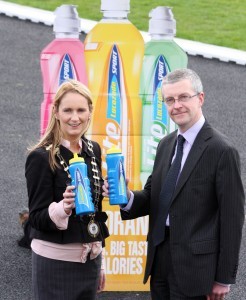 Glenveagh Castle and the adjoining National Park is the venue Sunday week May 15th for a new running/walking initiative – the inaugural Rundonegal Womens 5k (start time 11am).
The event will be the first in what is hoped will be an annual affair and is being organised with the support of Donegal County Council and with the goodwill of the local Glenveagh people.
It also has the support of the current Mayor Cora Harvey and it is the expressed hope of the incumbent Mayor that in the years ahead each incoming Mayor will take over the baton indicating their choice of charity and continuing with the event.
This year the benefiting groups are Diabetes North West and the local Strengthening Families programme.
Entry fee is €10 and the organising group is led by Grace Boyle, Bridgeen Doherty, Neil Martin, Danny Mc Daid and Patsy McGonagle and a strong support group behind the scenes, many of whom were involved in the superb North West 10k.
Many were also involved with the recent spectacular Ballyliffin 10-mile Coastal Challenge, meaning more than 3,200 people have gone to the line in recent days to either run /walk  not only for their own benefit but for various causes so there certainly is an awareness right now of exercise as evidenced in the highways and byways of the North West every hour of the day!
The Glenveagh invite is out there to all women regardless of age to come along and register on the day from 9 am in the Visitors Centre and enjoy the experience.
Lucozade has also kindly come on board with product sponsorship . Further queries if required to rundonegal@gmail.com and keep an eye on the rundonegal  womens 5k facebook page and, of course, on donegaldaily.com.
Tags: