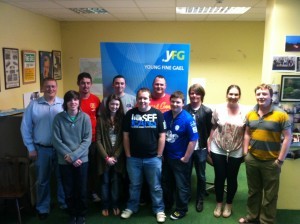 Following the recent electoral successes of Fine Gael, the youth wing of the Party in Donegal has undertaken a reorganisation of its structures and are putting plans in place for a recruitment drive across the County.
Commenting following her election as Chair of Young Fine Gael in Donegal North-East, Leah Kavanagh commented: "I am delighted to have been chosen to head up the branch in the Constituency and I look forward to working with the members to help build the organisation in Donegal.
"Our short-term ambition is to broaden our membership base to allow the young people of Donegal get involved in the political process if that is their wish.  YFG has a network of over 4000 members Nationwide and it is our hope to create links with branches in the North-West to promote the issues that affect the youth of Donegal.
"It is crucial that young people get involved in politics as it affects everything in our lives, including education, job creation and recreation.  YFG gives you a great opportunity to voice your opinion on the issues that matter to you," stated DJ Kelly, Chair of the Donegal South-West organisation.
Graham Dullaghan of the YFG National Executive commented: "The Party has seen a notable increase in those applying to join since we entered Government.  YFG in Donegal plan to tap into that enthusiasm and we have restructured our branches in anticipation of a massive recruitment drive.  Having held our AGM's in both Donegal constituencies, we were encouraged with the level of interest from new members and from members in areas of the County where we have to date not had much of a base.''
Having been active in Letterkenny and the Finn Valley in recent years, YFG have developed constituency structures to cover the whole of Donegal North-East and Donegal South-West.
"Being a member of YFG puts members right at the heart of policy making in this Country.  The organisation has immense influence in the Fine Gael party and this Government.  No longer will the young people of Donegal feel that their voice is not being heard, we are offering them not only a platform for their voices but a vehicle through which they can influence and develop the policies of the main party of Government.'' stated Dullaghan who is from the Finn Valley.
The recruitment drive will continue over the summer months with an initial 'get involved' meeting in Ballyshannon on Saturday May 7th at 6.30pm in the Ballyshannon Town Council offices.  Log on to facebook.com/donegalyfg or email yfgdonegal@ireland.com for details of further 'get involved' meetings.
Tags: