SOME of county's best-known bars have come together to launch a unique initiative to offer their customers a unique Donegal experience.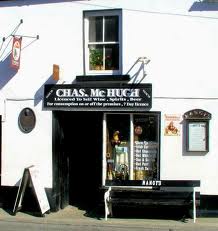 The 11 bars aim to offer the best of local produce and drinks under a promotion called Donegal Good Food Taverns.
These bars intend to source as much local produce as possible for their menus, bringing the customer great quality food and drink such as local oysters, meat from local butchers, locally grown vegetables and Donegal produced beverages such as Tir Connell whiskey and McDaid's soft drinks.
Donegal Good Food Taverns have created a trail through delightful Donegal, and each tavern is instantly recognizable thanks to its trusty Toucan trademark adorning the outside of each bar.
By creating a trail through Donegal to each bar, the bars aim to guarantee the customer live music every night at some point along the trail.
Coupling this with Donegal's breathtaking scenery and a host of activities available in the vicinity of each bar, Donegal Good Food Taverns offer a feast for the senses!
There are eleven bars currently involved. They are;
Nancy's Bar, Ardara
22 Main Street, Killybegs
The Village Tavern, Mountcharles
Dawros Bay, Rosbeg
The Tavern, Kilclooney
Leo's Tavern, Crolly
The Beachcomber, Rathmullan
The Bayview Bar, Dungloe
The Lobster Pot, Burtonport
The Travellers Inn, Milford.
The initiative will be launched in Nancy's Bar, Ardara on Monday next, May 16th at 6.30pm with refreshments for all.
The campaign will be launched by UTV's Joe Mahon of Lesser Spotted Ulster fame.
Ends
Tags: