Finn Harps bring to an end their first series of games in this season's First Division on Friday night when they make the trip to Galway to take on Mervue United.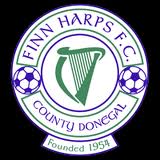 And supporters of the boys in blue will be hoping that, at the eleventh attempt, Harps can record their first victory of the season.
It's been a more than disappointing season so far for the club, who have only three home draws to show from their nine league games so far in 2011.
And Friday night's opponents, Mervue United, have already knocked Harps out of the EA Sports League Cup – recording a 1-0 extra-time victory – back in March.
by Joe Doherty
"Last week we got our eyes opened to the enormity of the task at hand," said Harps Manager Peter Hutton as he reflected on the 1-0 home defeat to Wexford Youths.
"You can see why we are where we are in the table at the moment. We have a tough job in hand and people need to manage the expectations of what to expect in the immediate future.
"We have a very young squad, a very inexperienced squad and one this is not helped when missing some of the more experienced players like Conor O'Grady and even Gareth Harkin."
On tomorrow's game in Fahy's Field, Hutton feels that a win could do wonders for his young side.
"We are hoping for a positive result and a good performance. We need to cut out the silly mistakes and hope that the players take on board what we ask them to do. If things go wrong during the game, we need the players to react in the right way and move on. A win would certainly help us, and would help bring confidence back to the squad."
Harps will have to plan again without the injured duo of Conor O'Grady and Gareth Harkin, who Huttons feels are both a week or two away from been back in contention.
"Ciaran Coll is a definite absentee as he hasn't been able to train this week due to tonsillitis," explained the new Manager.
"Added to that, Packie Mailey is a doubt with a foot injury and Gary Whoriskey picked up a knock to his knee in training last night."
Suspended: None.
Doubtful: Packie Mailey (foot), Gary Whoriskey (knee).
Injured: Conor O'Grady, Gareth Harkin, Ciaran Coll.
Form Guide (last six league games)
Finn Harps: D-L-L-L-L-L (1 pt)
Mervue United: L-W-L-L-W-L (6 pts)
Recent games away to Mervue United
20-Mar-09 – Drew 1-1 (First Division)
11-Sep-09 – Won 1-0 (First Division)
07-Aug-10 – Won 3-1 (First Division)
28-Mar-11 – Lost 0-1 (League Cup)
Finn Harps Goalscorers 2011
Kevin McHugh – 3
Marc Brolly – 1
Gareth Harkin – 1
Finn Harps Results 2011 (Harps goalscorer in brackets)
5th May 2011 – FD – Finn Harps 0-1 Wexford Youths
29th April 2011 – FD – Shelbourne 1-0 Finn Harps
22nd April 2011 – FD – Finn Harps 1-2 Longford Town (Brolly)
19th April 2011 – FD – Athlone Town 1-0 Finn Harps
15th April 2011 – FD – Cork City 5-0 Finn Harps
8th April 2011 – FD – Finn Harps 0-0 Salthill Devon
28th March 2011 – EA – Mervue United 1-0 Finn Harps
25th March 2011 – FD – Waterford United 1-0 Finn Harps
18th March 2011 – FD – Finn Harps 2-2 Monaghan United (McHugh 2)
4th March 2011 – FD – Finn Harps 2-2 Limerick (McHugh, Harkin)
Mervue United v Finn Harps
Airtricity League First Division
Fahy's Field, Friday 13th May 2011 – Kick-off 7.45pm