Members of a Ugandan children's choir have left a heart-wrenching impression on hundreds of Donegal schoolchildren after giving them a snapshot of their tragic lives.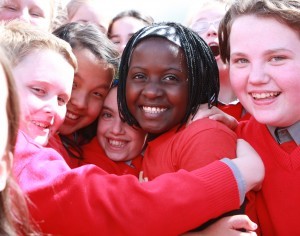 A group of 22 orphaned schoolchildren from Wototo arrived in Buncrana where they performed songs and told how they were left alone to fend for themselves.
The group were guests of Scoil Iasacain in Buncrana who arranged the trip through the Children's Trust Uganda.
Some of the children, who were aged between 7 and 14, revealed how they are suffering from AIDS and revealed how their parents had either died or abandoned them at birth.
School principal Ms Sinead McLaughlin said the visit of the group was the most inspiring thing she has ever witnessed.
"It was simply the most amazing thing. Our 650 pupils were just silent as the pupils from Uganda told their often heartbreaking stories.
"But it was also amazing to hear their wonderful songs which was a special treat.
"It was amazing o watch the children interacting and in the end our pupils were trying to teach their visitors Irish which was an amazing thing to witness.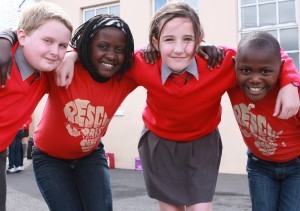 "These children have had it very tough but they were so happy and full of joy. It was great for our pupils to see a different culture and how such hardship can be overcome.
"I can safely say it was the most inspiring thing I have ever witnessed in the school. We are now trying to forge links with the choir for the future," she said.
Ms McLaughlin revealed how the children will also be giving talks to adults which she said would probably be much more hard-hitting.
"Our pupils got a taste of what other children's lives around the world. I have to say it really made them think.
"We could only allow a certain amount of their story to be told and a much deeper version of what these children have been through will be told to a more adult audience," she said.
The group will be in Ireland for a number of weeks and will perform at various other functions as well as singing at masses in Buncrana and Cockhill tomorrow (Sunday).
Ends