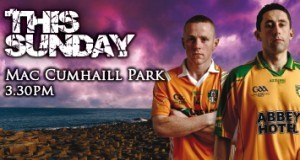 OUTRAGED fans took to the airwaves and the internet last night to denounce the €27 charge to see the Donegal v Antrim in Ballybofey yesterday.
And the costs even made national television – with Des Cahill and RTE pundit Pat Spillane expressing shock at the cost.
Donegaldaily.com, Facebook and Twitter all had comments sent in from fans expressing disgust at the cost of seeing the Ulster Championship preliminary round tie which saw Donegal beat Antrim in a match branded 'drab' by pundits.
On Twitter one fan fumed: "Doesn't the GAA realise there is a recession on? There were four of us and it was over a hundred quid. I won't be back."
Another responded: "I went to the pub rather than pay and watched it on TV. I couldn't believe the prices. The GAA needs to live in the real world."
There were many other posts on the cost of entry to MacCumhaill Park.
The €27 charge was for the stand – it was €15 for the terraces. Another blogger fumed: "I went to the stand at first but thought it was too pricey, so ended up getting soaked on the terraces. I got soaked but I saved twelve quid."
There was also massive criticism of Donegal's style of play on many internet sites last night, with fans critical of the style of play which had star forward Michael Murphy retreating to his own half on several occasions during the game.
One fan on gaaboards.ie said: "Why in the name of all that's holy can't Donegal leave Murphy and McFadden up in attack ALL THE TIME. If I want see a crowd of lads behind the ball all the time I'll watch f******* rugby."
However Donegal fans defended the county team, one poster insisting: "You'd think someone committed a murder today…with some of the bitter comments.
"I've seen us confound the pundits far too many times, whether its flopping after being tipped as contenders, or winning when totally written off, to be too concerned about knee-jerk, over the top reactions to this one game!"
Another added: "All Donegal people will tell you they would rather the team go out and play man for man but last couple years we have tried that and failed i came out of their today happy because we won the game our 1st in ulster for 4 years so im not gonna complain about how they did it."
* You can see more on this story on our HomePage Sports Section:
Tags: