A partially blind young man who also has another severe disability is on the road to getting his Masters Degree in Accounting at Letterkenny Institute of Technology.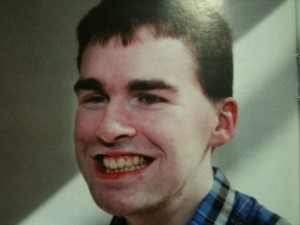 Inspirational Seamus McGrory, 25, from Letterkenny lost his right eye when he was just one year old when he developed a tumour in his retina.
Seamus was later diagnosed with ataxia – a progressive condition of the nervous system which causes him problems with his balance, speech and also causes slurred speech.
But despite his challenges, Seamus is now on the verge of qualifying as an accountant and has become a role model for all young people with difficulties.
Although he attended primary school in Letterkenny until he was eight, his parents had to make the heartbreaking decision to send him to St.Joseph's School for the Blind.
"It was a hard decision for them to send me to Dublin. Both my parents are blind," revealed Seamus.
Seamus managed to come home every weekend and even made friends with two other Donegal lads in the school.
Seamus managed to pas his Junior Cert with flying colours at Errigal College in 2003 and, despite taking a break from his studies, he sat and passed his Leaving Cert 18 months later.
In 2006 he decided he would like to do business studies and has settled in like a natural at the Port Road campus.
Indeed he recently received an award for outstanding student endeavour from the LYIT School of Business.
"It was one of the most emotional moments of my life and getting that award with my friends standing by my side," beamed a very proud Seamus.
Not content with being a Grade A student, Seamus has also learned how to swim at the Aura Leisure Centre and also got his amateur radio license.
For the future, Seamus has three goals he would like to see achieved.
"I want to become a fully-fledged accountant, I want to live independently, and to see Liverpool win the Premier League."
Well at least we know Sean will undoubtedly fulfil his first two goals!
Ends
Tags: