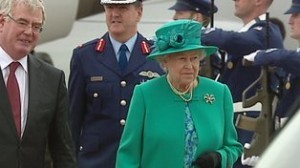 EVERY available speed camera van has been deployed in Co Donegal today – as three-quarters of the county's Gardai are on duty in Dublin to protect Britain's Queen Elizabeth.
Donegaldaily.com has learned the strategy was ordered for the rest of this week during the royal visit.
So far our readers have reported the GoSafe speed vans – which are operated by a civilian-staffed private company – at Ballyshannon, Illistrin, Letterkenny, Buncrana, Burt, Gaoth Dobhair and just outside Donegal Town.
A senior garda admitted: "With so many of our people on duty for the visits of the queen and President Obama, we don't want people to think it's a free for all on our roads.
"The speed detection cameras are out in force with extra available shift being used."
The senior garda also issued a warning to businesses and homeowners, telling them to be extra vigilant for the rest of the week as criminal gangs may try to take advantage of the royal visit to launch a crime blitz.
"There is no doubt that there are criminals who think they can take advantage of fewer gardai on duty in the county this week," said the senior garda.
"They are very much mistaken if they think that; however I would ask members of the public to be extra vigilant this week and early next week.
"Business people also need to be extra vigilant, checking and double checking their security systems."
The British Queen arrived at Casement Aerodrome in Dublin at 11.55am.
There were a number of bomb alerts today, with one viable device found in Maynooth.
A controlled explosion was also carried out on a suspect package on Dublin's light railway system the Luas today but it was found to be a false alarm, as was another suspect package found in the city on yesterday.
And there is traffic disruption in parts of Derry today because of alerts.