Have you some acting experience and would like to star in what promises to be one of the most entertaining plays staged in Donegal in recent times?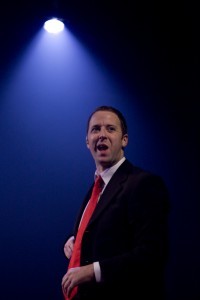 Then An Grianán Theatre, in association with Workhouse Productions, will be holding a casting session for their forthcoming production of Brian Friel's Aristocrats on Sat 11 June.
The casting session is open to experienced actors only and interested people must submit a CV and photo to the play's producer Patricia McBride at An Grianán Theatre by Monday 6 June so that audition times can be allocated in advance of the audition day on Saturday 11 June.
The production will run at An Grianán during the last week of September and there will also be three further touring performances as part of the annual Bluestacks Arts Festival.
The play will be directed by well known Letterkenny actor Iarla McGowan of Workhouse Productions.
McGowan has previously directed Conor McPherson's The Weir for Workhouse Productions and this will be his first time directing with An Grianán.
Rehearsals for the production will be held mostly in the evenings for a three week period from Monday 5 September.
This is so that we have the opportunity to include many of Donegal's excellent amateur and semi professional actors who have other day time work commitments.
Set, like so many of Friel's plays, in the fictional Donegal village of Ballybeg, Aristocrats explores similar themes to his 19th century set drama The Home Place except here the focus in on an upper class Catholic family and the action takes place in the 1970s.
Ballybeg Hall is the decaying home of District Justice O'Donnell where those who congregate for a wedding stay to attend a funeral. Friel's chronicle of three sisters and their 'peculiar' brother reveals the way 'in which the ache of one family becomes the microcosm for the ache of a society'.
First produced by the Abbey Theatre in 1979, Aristocrats won the Evening Standard Award for Best Play (1988) and the New York Drama Critics Circle Award for Best Foreign Play (1989) with the New York Times calling it ''a lovely play, funny and harrowing' while the New Yorker declared it ''an ironic, loving, imaginative, and all but faultless play. Make that a faultless play.'
Already cast is the role of District Justice O'Donnell which will be played by Gerard McSorley, one of Ireland's most acclaimed actors of stage and screen.
McSorley appeared as Michael in the original stage production of Dancing at Lughnasa as well as performing as the narrator in the film version. Originally from Omagh, McSorley now lives in Donegal.
The roles available for casting are the three adult sisters (age range 20s to late 30s), their eccentric brother Casimer, his brother-in-law Eamon, neighbour Willie Diver (all in their 30s) and American academic Tom Hoffnung (mid-fifties).
If you wish to audition for the production please send your CV and head shot to the theatre by Monday 6 June by post or by email at patricia@angrianan.com. For further information please contact Patricia McBride or Martina Murphy at An Grianán, telephone 074 912 3288.
Ends