Nobody can accuse Eunan Devenney of not punching above his weight.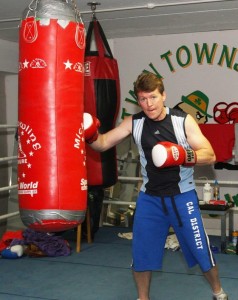 The Twins Towns man today began an attempt to break the world record for hitting a punchbag for the longest ever time.
Eunan, 42, will hit the 100Ib leather bag for a staggering 36 hours in a bid to raise funds for Our Lady's Hospital for Sick Children.
Eunan, a member of the Twin Towns Boxing Club from Ballybofey, estimates that he will have to throw at least 100,000 punches to beta the old record.
He has been in training since last June and knows it's going to be a huge challenge.
"I'm up early at 6am each morning and training hard. I haven't being doing as much work on the bag because that will come.
"I am getting the mind right now so I can take it from a mental perspective as well which is a huge challenge.
"I'll be ready and I know I can do it," he said.
Eunan hopes to take the World Record of 36 hours and 3 minutes from Californian Ron Sarchian.
The Donegal man has already punched a bag for 24 hours a few years ago but is well aware of the toll the effort will take on his body.
"The time I punched the bag for 24 hours was pretty gruelling and took a lot out of me. In fact, I couldn't open my left hand fully for nearly a year after it," he admits.
But having had first-hand experience of a relative getting treatment at Our Lady's Hospital, modest Eunan admits his bravery is nothing compared to many sick children.
"Punching a bag for 36 hours is nothing when you take a walk through some of the wards at this hospital.
"The fact that I am thankfully fit enough to try and do this is thanks enough," he said.
Everyone is welcome to call in and say hello to Eunan and give him any encouragement in his amazing fete.
Ends
Tags: