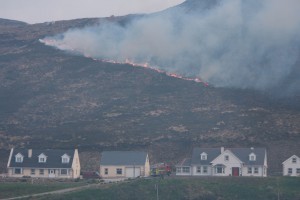 GARDAI have admitted there have been no arrests in relation to the gorse fires which devastated large parts of the county three weeks ago.
However they insist their investigations are continuing and have appealed for anyone with information to contact them.
One local Superintendent – Michael Finan in Glenties – revealed that investigations are still ongoing.
The gorse fires – many of them started deliberately – caused millions of euro worth of damage.
"We received a number of reports in relation to these fires and we are still following up on those reports," said Supt Finan.
"If anyone does have information about these fires, they should contact Gardai."
The worst fires were in Doochary, Dungloe, Inishowen, Fanad and Ballyshannon. There were also dozens of other fires.
At one stage more than 200 firefighters, more than a thousand local people, 90 Defence Force personnel and five helicopters were involved in tackling the fires.
Tags: