BY MEDIABOX.IE: Monday morning, the kettle is on and we welcome you to a day in the life at Mediabox.
The clock has just turned 10 and we are gathered around the round table armed with tea in one hand, pen in the other ready for this morning's brainstorm. A quick review of last week's success:
Yes we did indeed celebrate Obamas visit, so much so that we missed his descent from Air Force One in Dublin taking pictures of his "reroute to Donegal" instead of Monegal!
Inspired by Obama's 'can do' attitude Wednesday saw the launch of Mediabox University.
With 10 years experience in media, communications, PR, business consultancy and training, Joanne Sweeney-Burke took to the classroom to train high-performing business owners, managers, charity and voluntary workers, and leaders of not-for-profit organisations.
Social Media for Business was the first of our trilogy of practical and business-orientated communications courses: Public Relations for Business will take place tomorrow Tuesday 31st of May and after four hours of presentation prep over the weekend, Joanne is ready to take to the drawing board again and help business's devise their very own PR strategy.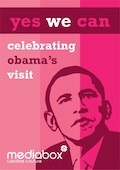 Marketing for Business – Your Marketing Toolkit will take place the following Tuesday 7th of June.
To find out more or to secure your place logon to: http://www.mediabox.ie/News/Introducing-Media-Box-University
Today we are officially live with Mediabox FM! The first tune to get us going this Monday morning is MPeople… "Moving on Up"! Feel free to logon and request a tune with us at: http://www.facebook.com/mediabox.
Facebook Friday happens at the last day of each month. Joanne will be live on Facebook taking your queries on Social Media, PR & Marketing from 1-2pm on Friday 24th June!
So logon and join in the discussion for some FREE and GREAT advice!
Feeling Spectacular…

Having just returned from Specsavers with a shiny new pair of glasses and looking forward to the week ahead with 20:20 vision, we are excited about what's in-store for the Mediabox team!
We hope you enjoyed the first entry of our Running in Heels blog and look forward to sharing the rest our office adventures in the coming weeks!
Must dash now in my red and blue size 5 platforms to email off my 35 page completed assignment and make my 11.30 meeting!
Until next week…
Joanne
Tags: