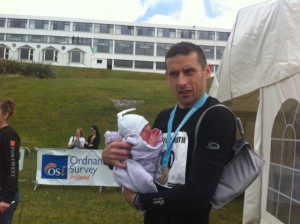 LETTERKENNY'S Gary Crossan today won the county's toughest event – the Gaelforce North race.
The 64km course took the competitors from Gartan, through Glenveagh National Park and around Errigal!
Chris Caulfield came second, Eoin Cartin was third, David Sands fourth and Kilcar's Darragh McShane (pictured below) was in fifth place. The course they did is below!
1
Stage 1: Trail and Road Run
You will get mucky and wet on the trail run.
15.5km
2
Stage 2: Kayaking across Gartan Lake

Your feet will get wet unless you are very very careful!!

2km
3
Stage 3: Cycling

Always obey rules of the road.This is a challenging cycle to the bottom of Errigal.

24km
4
Stage 4: Mountain Run/Hike

This is up and down Mount Errigal.

You must reach the base of Errigal by 3pm otherwise you will not be allowed to climb it.

4km
5
Stage 5: Cycling
There is a mix of off road Coillte Tracks and tarmaced roads for this last section, so you need to think about your bike choice. 18.5km
Tags: