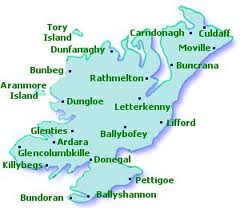 HUNG FOR A SHEEP: Sheep rustling in the county is rife, says the IFA. Spokesman Davie Keith says theft of the animals is 'endemic'.
HUNG OUT TO DRY: Laundry from Letterkenny General Hospital will be sent to Dublin from next month when the local facility closes. The move will save the taxpayer a fortune – and 17 staff are being re-deployed to other departments.
MAYOR GERRY: Sinn Fein's Gerry McMonagle will become Mayor of Letterkenny next Tuesday, becoming for the first member of his party to hold the post.
LAST CURLEW CALL: Just ten breeding pairs of Curlews are left in Co Donegal, says Birdwatch Ireland, citing the loss of upland habitat as the main reason.
ARRANMORE CALLING: RTE Radio 1 will broadcast a fascinating documentary on Arranmore tomorrow at 2pm. Presented by native Helena Gallagher, the 'Survivial of an Island' programme, focuses on how the dying fishing industry is hitting the island.
CASH BOOST: Killygordon and Crossroads are celebrating after being given a €244,000 grant to extend its community centre.
HIGH-WAY: Mark House, Chapel Street, Stranorlar, has been fined €300 for growing cannabis in his car. The local court heard he had placed two plants in his vehicle to 'get more sunshine'.
CURRACH SUCCESS: Gaoth Dobhair Cumann na gCurrach members are celebrating after winning 18-mile races in Cork last weekend.
DAM-N IT: A conservation group is opposing a new hydro-dam proposal in Kilcar. The South West Donegal Area Conservation Group says it will fight the proposals.
Tags: